WhatsApp is the largest conversational platform, with more than 2 billion monthly users and more than 100 million messages exchanged every day. WhatsApp helps people from all across the globe connect, and with WhatsApp Business API, many businesses can connect with millions of their customers in a timely manner.
In hopes of connecting with tons of people who have already used WhatsApp, businesses started using the chat platform to channel customer engagement and support. So WhatsApp introduced its Business API to make communication between businesses and customers easier through WhatsApp.
But what is WhatsApp API? How exactly can it help businesses? First, we are going to delve into why businesses should consider using WhatsApp Business API for customer engagement and support.

What is WhatsApp Business API?
WhatsApp Business API — also known as WhatsApp Business or WhatsApp API — is a tool to help medium and large businesses communicate with WhatsApp users. With this tool, businesses can connect with customers worldwide securely and reliably.

Read also: WhatsApp Business API and Multichannel Dashboard

With WhatsApp API, businesses can either register a new number or use an existing one (as long as they have not been used for other WhatsApp API clients before) and use the said number to create a business account on WhatsApp.

This account can then be used by businesses to communicate with customers on WhatsApp. In addition, businesses can also manage the account with multiple devices and multiple admins, which can greatly simplify the customer support workflow.

While WhatsApp API opens a lot of opportunities for business communication, here are some of its key features:
1. Business account verification:
When your business uses WhatsApp Business API to register an account for business purposes, you will get a verified business account from WhatsApp, which includes a green checkmark badge on your account name.
This will help your business account appear more legitimate and ensure customers' peace of mind when interacting with your business account on WhatsApp.
2. WhatsApp business messaging tools:
WhatsApp API also includes all the business messaging tools the chat platform has to offer to help your business provide all the information that your customers need at any given moment, respond to queries, and provide other support.
This tool enables a wide range of messaging ability, such as sending messages with rich and engaging media and letting you register messages template for WhatsApp before sending to your customers. You can use the template to send a notification when your customers perform specific actions, such as adding your account or initiating a conversation.
3. WhatsApp security features:
By registering your business on WhatsApp Business API, your business can also take advantage of the chat platform's set of security features, including the end-to-end encryption that WhatsApp offers for every conversation.
With the security features, both businesses and customers can be assured that their conversations are safe and secure from prying eyes, particularly for sensitive information that needs to be exchanged for purposes such as payments and authentication.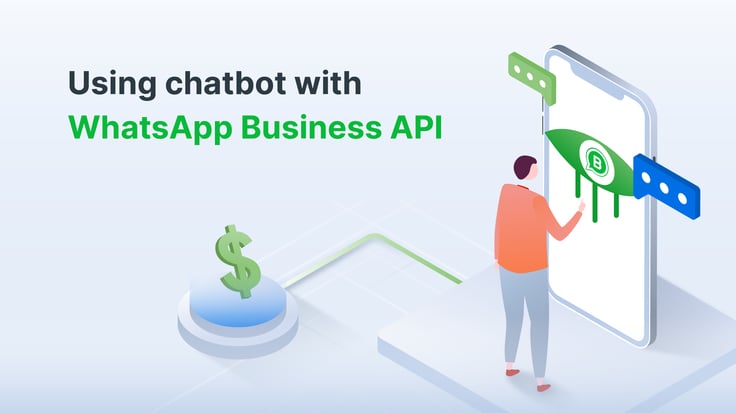 Using chatbot with WhatsApp Business API
Aside from the features we mentioned before, WhatsApp Business API also allows you to integrate a smart chatbot into your business account. The chatbot, often referred to as Chatbot for WhatsApp, WhatsApp Chatbot, or WhatsApp Bot, is a program that can send and reply to single or multiple WhatsApp messages automatically.
Read also: Chatbot for WhatsApp: All You Need to Know
By integrating your chatbot on WhatsApp, customers that reach out to you on WhatsApp can access a variety of automation features that can make things such as customer support and information access easy and instant.
With a chatbot on your WhatsApp, you can respond to multiple user messages simultaneously and automatically. This is very suitable for cases when users only require basic information or FAQ support. With chatbots helping with simple queries, you can reduce wait times and free up your live support agent to handle the more complex issues.
The chatbot technology itself presents several key benefits for business users, including:
1. Instant customer service and support:
As we mentioned before, chatbots can be programmed and trained to answer simple queries and FAQs instantly, reducing wait times and freeing up human resources in the customer service team.

In addition, the chatbots can also be operated 24/7 without the need for constant human maintenance so that customers can receive answers promptly.
2. Operational cost saving:
With chatbot automating simple queries, FAQs, and other repetitive work, businesses will not need to hire more workers and inflate their human resource budget to handle those tasks.

This is supported by a number of researches, such as the one by BI Intelligence in 2016 that estimated saving of up to 30% in customer service cost with chatbot implementation.
3. Direct and more personal customer engagement:
Chatbots can be integrated into popular chat platforms that customers regularly use, including WhatsApp.

This means that businesses can also reach out to their customers directly to provide information on products and services, keep them updated on the latest promotion and campaigns, and ask for valuable feedback.
4. Customer insights analysis:
As your chatbots get to know their customers by interacting with them, businesses can also gain valuable insights from data such as purchasing behavior and product preferences.

These Insights will help businesses provide better and more personalized experiences, from improved products, more tailored promotions, to more engaging campaigns.
With these benefits, chatbots can help businesses interact with customers in a better and more personalized way.
Read also: What Is Chatbot? An Evolution In Customer Interactions
Are you interested in using WhatsApp API? Kata.ai's WhatsApp Business API solution might just be the perfect thing for you.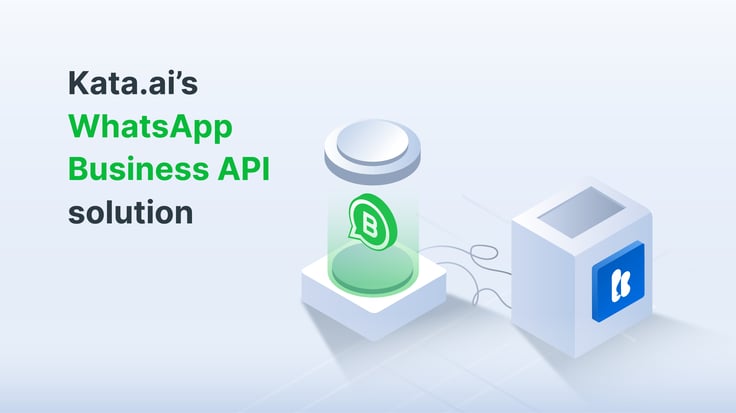 Kata.ai's WhatsApp Business API solution
Kata.ai offers our WhatsApp Business API solution that can help you get started on creating and using a business account on WhatsApp. The plus side of using our WhatsApp solution is that you can also integrate WhatsApp into your broader conversational strategy with easy integration to our other Kata Conversational Suite products.
With our WhatsApp API and conversational AI solution, your business can enjoy several main benefits, namely:
1. Connect any number and multi admin management:
In accordance with WhatsApp API policy, you can register any mobile or public switched telephone network (PSTN) number to use as your business number with Kata.ai's WhatsApp Business API solution. The business account can then be managed by multiple admins on multiple devices to help your customer support team work more efficiently.
2. Send automated notifications and templates:
Our WhatsApp Business solution also allows you to send personalized and automated notifications — such as order confirmation, appointment reminders, and more — to keep them informed and up to date. In addition, you can register a message template that could be activated and sent when customers performed a certain action.
3. Support OTP, 2FA, and other secure messaging:
With WhatsApp security and end-to-end encryption feature, your interactions with customers are safe and secure. This allows you to send sensitive information such as OTP, two-factor authentication codes, or other confidential information worry-free.
4. Centralized customer support management:
Integrating Kata.ai's WhatsApp API solution and omnichannel dashboard tool will allow your customer support team to manage single or multiple WhatsApp numbers through a centralized dashboard. The dashboard also supports managing conversations on other channels, such as Facebook Messenger, Instagram DM, Telegram, and others, to enable a truly seamless support experience.
You can read more about our WhatsApp Business API solution here or on other resources we provided on our blog page.
Conclusions:
WhatsApp Business API has opened up the gate for businesses to easily interact with customers across the globe in a channel that they use daily. From official account verification to conversational AI integration, WhatsApp Business provides many benefits for businesses.
That is why businesses really should consider using WhatsApp Business API to manage WhatsApp communication and make their workflow more efficient. With a more efficient workflow, businesses will not miss out on any sales, marketing, and interaction opportunities.