With the new waves of digital challenges facing global developments, Kata.ai is delighted to participate in the Indonesian government's efforts in advancing the country and its bureaucracy with Artificial Intelligence technology.
The government introduced in August the National Strategy on Artificial Intelligence (Stranas KA), a blueprint on how the country plans to develop and implement AI technology for the next 25 years.
The strategy blueprint marks one step forward in realizing the vision of President Joko "Jokowi" Widodo, who wanted to utilize AI technology to handle the technical side of the country's red tape, hoping to expedite services and ease duties in bureaucracy.
The desire to use the technology to simplify bureaucracy had long been expressed by the president, who said last year that the government is looking to replace several positions previously filled by civil servants with AI.
With the national blueprint, Indonesia wanted to match and even surpass other countries that have adopted their own homegrown AI strategy — such as the United States, China, and Finland — by addressing key problems. Namely by setting concrete targets that would ease the eventual measurement of success.
The implementation of AI in the public service of other countries has yielded some success stories too.
According to professional services company Accenture, a state organization in the US, was able to maximize program compliance and minimize fraudulent behavior by implementing AI technology. The AI-powered system increased fraud identification ability to 21 percent from the initial 6 percent and identified the sharp practices three months earlier than the previous arrangement.
The implementation of AI-based chatbots in large US universities that can answer frequently asked questions is also expected to boost engagement with students, as it enables a 24/7 service channel, and lets contact center agents focus on more complex student queries.
In drafting the national strategy, Minister of Research and Technology Bambang Brodjonegoro, who was also the head of the National Research and Innovation Agency, set four focus areas in developing and implementing Artificial Intelligence. Those areas are ethics and policies, talent development, data and infrastructure, and industrial research and innovation.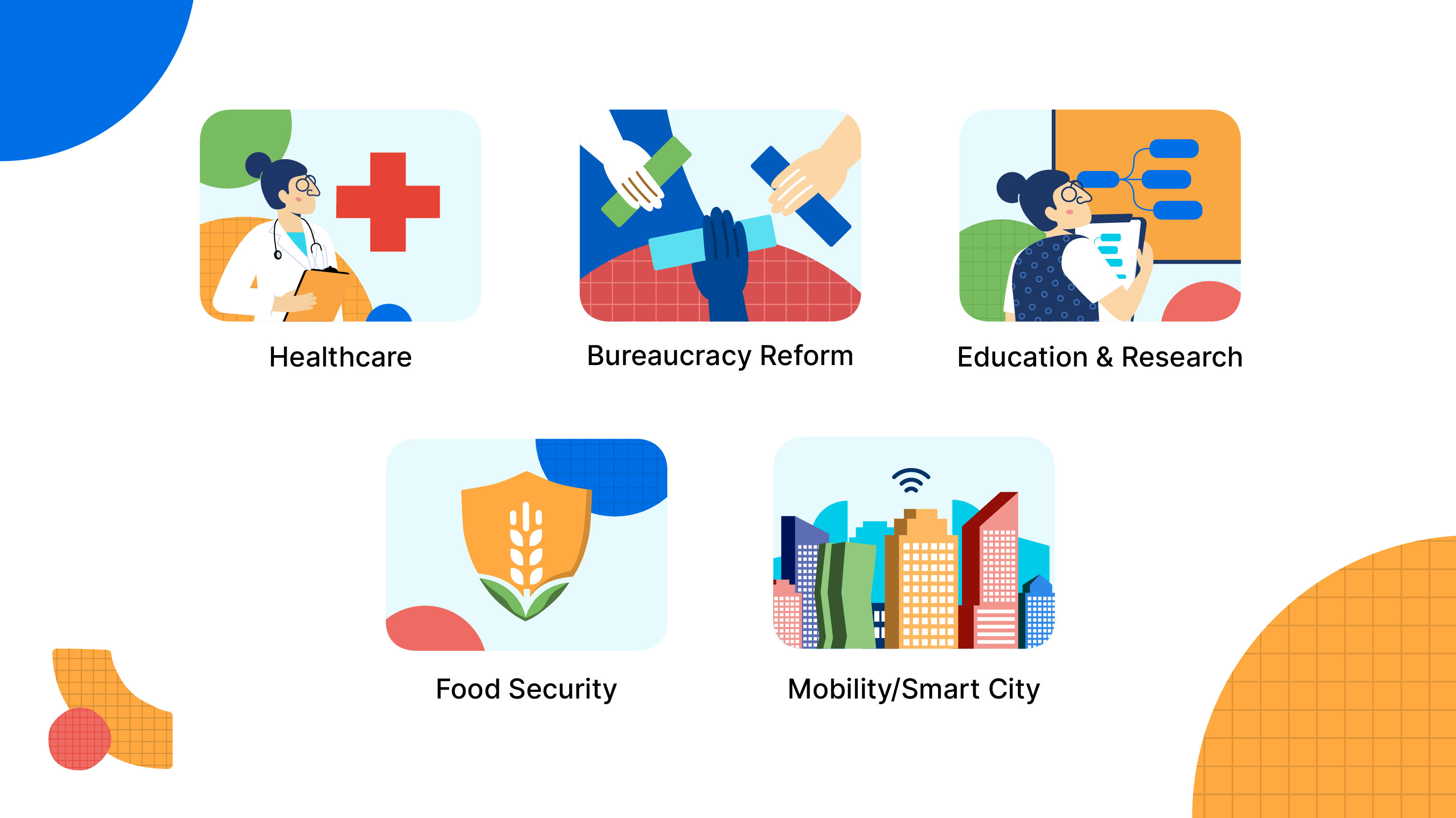 In the national strategy, the government seeks to implement AI technology in five main sectors: healthcare, bureaucracy reforms, education and research, food security, as well as mobility and smart cities' development.
In terms of bureaucracy reform, the strategy wants to revamp public services by using AI-powered chatbots as messaging platforms are the most favored apps by almost 90 percent of internet users, according to a 2007 survey by the Indonesian Internet Providers Association (APJII).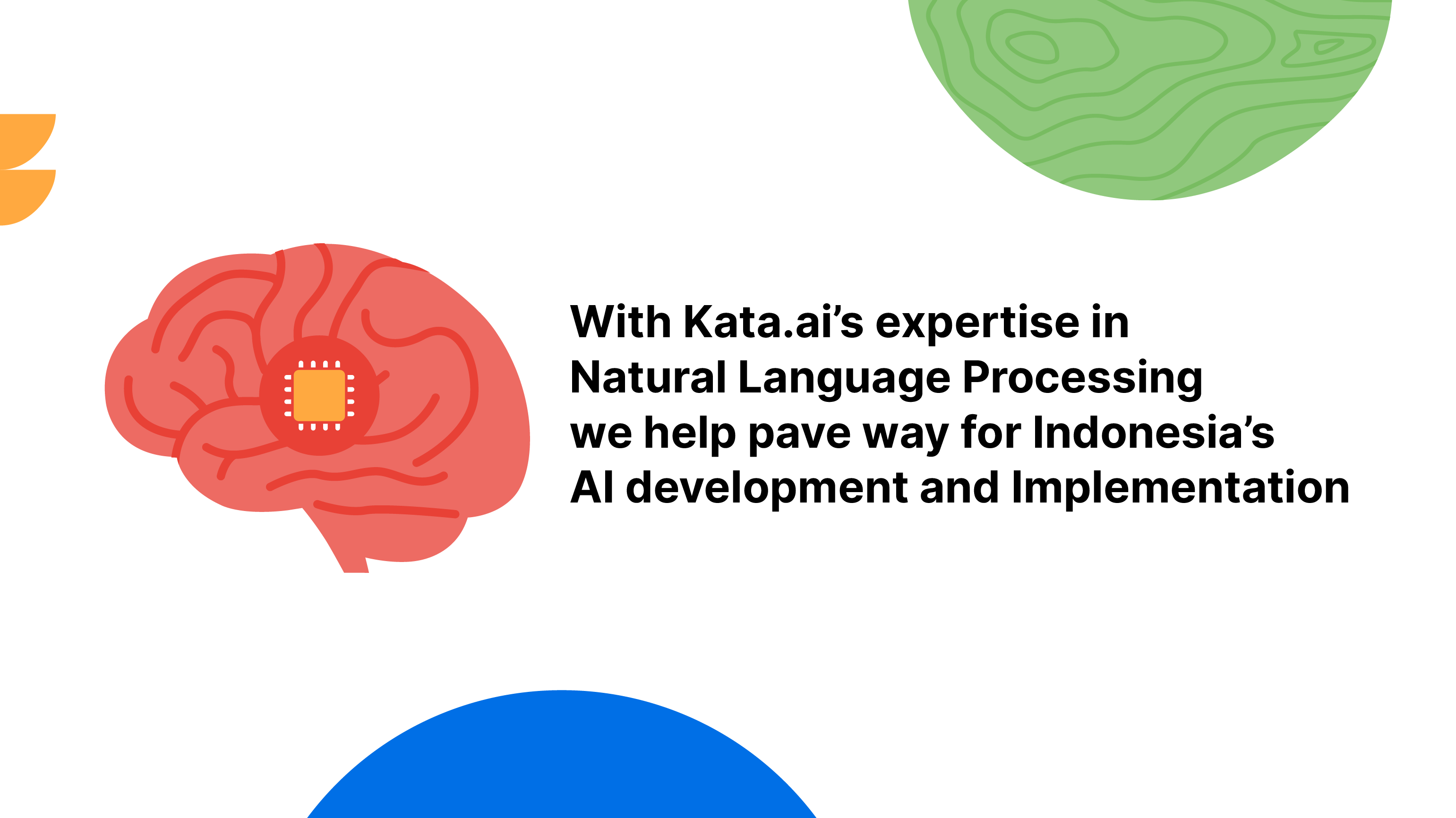 As Indonesia's leading innovator in Conversational AI, with our chatbot solutions being implemented by hundreds of businesses across industries, Kata.ai also contributed to constructing the national vision with our natural language processing expertise.
Five of our best talents had joined forces with other stakeholders in drafting the strategy, including our CEO and Co-Founder Irzan Raditya, CTO Pria Purnama, Senior AI Research Scientist Radityo "Ridho" Eko Prasojo, Senior Corporate Counsel Matheace Rama Putra, and Former Head of Engineering Welly Tambunan.
On the National AI Strategy, Irzan said in August that the blueprint could improve Indonesia's human resource potential, urging application in the industrial sector to boost Indonesia's competitiveness in solving problems using AI technology.
Pria also said that in drafting the Stranas KA, Kata.ai represented industry stakeholders in the quad helix process and gave insights related to business ethics and needs, as well as outputs from the industry that need to be regulated.
"In the future, we hope that Stranas KA can enable the AI ecosystem in Indonesia to be formed faster and better. We are ready to support the national AI strategy," Pria closed.