The COVID-19 pandemic has affected almost all countries globally in terms of public health and the economy in 2020. With people being advised to stay at home to reduce transmission risk, businesses are forced to seek new strategies to maintain operations and weather the pandemic's storm.
This year, Kata.ai holds the INTERACT 2020 virtually for the first time on Wednesday, November 25, 2020, with the theme of "Shaping Tomorrow's Trend Through Automation". In the event, Kata.ai gives its latest updates on technology and products while also gathering innovators and decision makers to discuss solutions to critical problems across industries, including how to drive businesses forward amid the global crisis.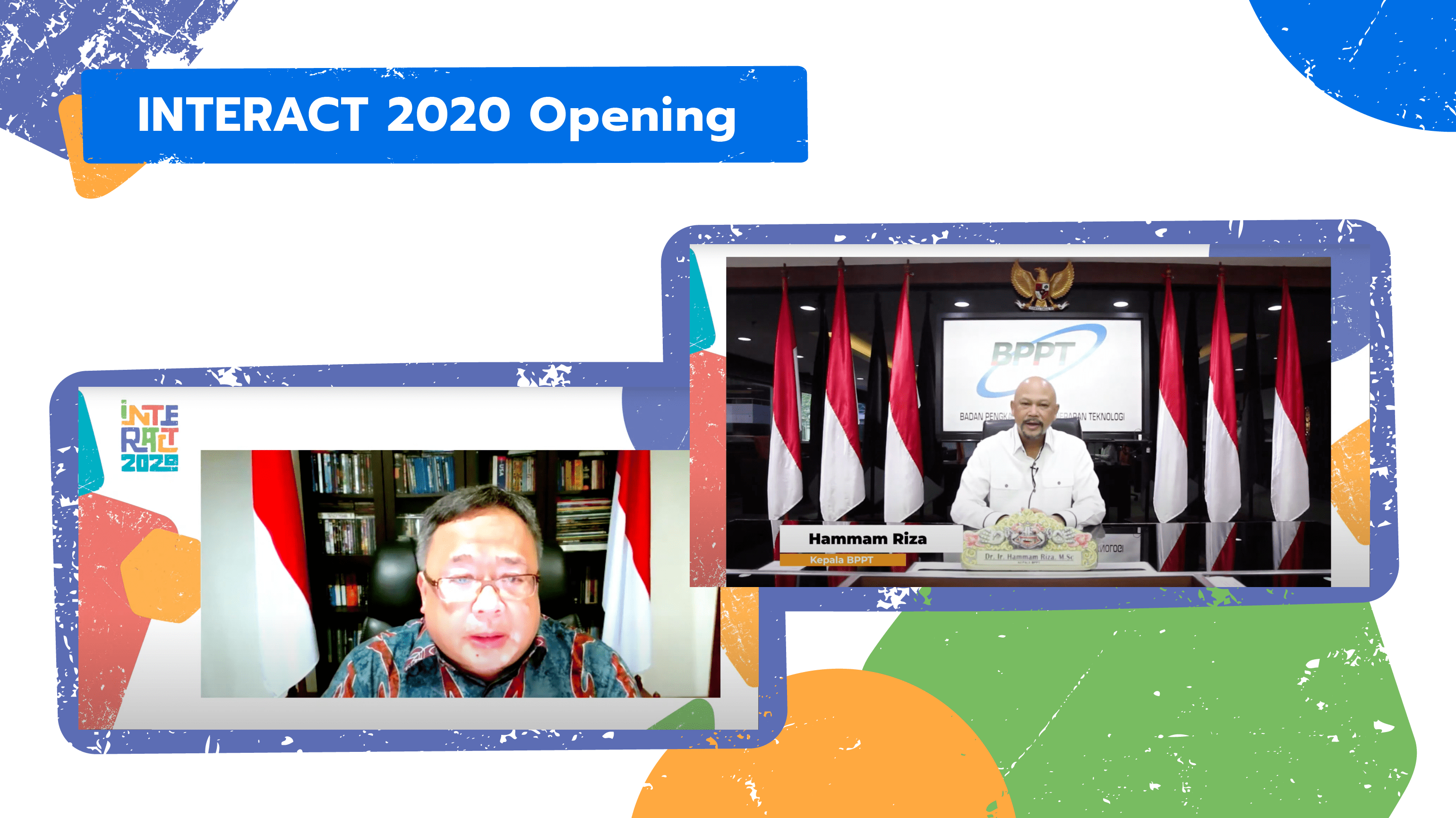 Indonesian Minister of Research and Innovation Bambang Brodjonegoro, who is also the head of the National Research and Innovation Agency (BRIN), opened this year's INTERACT event. He hoped that the annual event could be a gathering place for technology and Artificial Intelligence enthusiasts to gather new information and insights on the latest AI innovations and advancements.
Hammam Riza, the head of the Agency for Assessment and Application of Technology (BPPT), echoed the same hope as Bambang, assuring that pushing forward in research and technology could greatly benefit Indonesia's economy, which he described as very innovation-based. He also stated that the BPPT would prioritize efforts to develop AI technology in order to support national economic growth.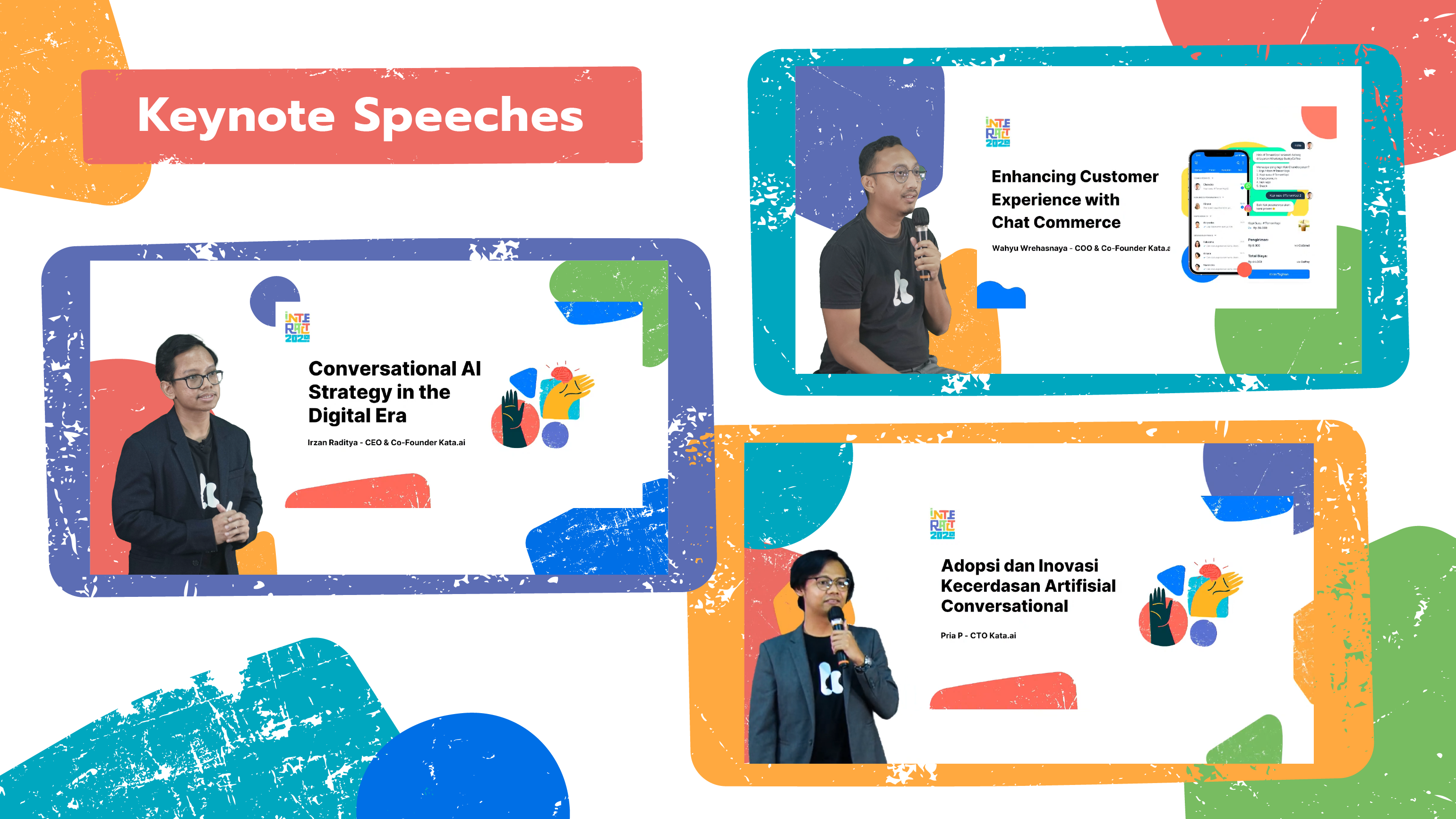 In the first keynote session, Kata.ai CEO and Co-Founder Irzan Aditya shared about how Kata.ai contributes to the trend of conversational AI technology adoption, both in enterprise and government use. Irzan said that established businesses were able to increase customer engagement and reduce operational costs with the Kata Conversational Suite that allows companies to tailor chatbots based on their needs.
Kata.ai CTO Pria Purnama also shared the company's latest technology development, including recent updates to KataPlatfom's project dashboard, new features in the FAQ, and analytics modules that enables chatbots to answer queries with images or long-form text and allow operators to identify new users of their chatbots respectively. With access to Instagram API, Kata.ai can now integrate its omnichannel solution with the leading social media platform.
Pria also gave a sneak peek of Kata.ai's newest research and innovation, such as developing a chatbot with "personalities" in different conversational styles and working on a style transfer system that could increase the AI's capability of understanding informal style of communication in Bahasa Indonesia. The researchers have also experimented with AIs that have a high level of creativity, which is able to make poems and exchange jokes with the user.
In his keynote speech, Irzan also announced that Kata.ai had received Series B funding, which was supported by Trans-Pacific Technology Fund (TPTF), MDI Ventures, Buana Investama, and other investors. With the new funding round, Kata.ai will continue to develop its enterprise solution and offer our latest innovation to Small and Medium Enterprises (SMEs) -- the backbone of Indonesia's economy-- with the launch of the Qios social commerce platform.
QIOS - Automation-powered chat commerce platform for SMEs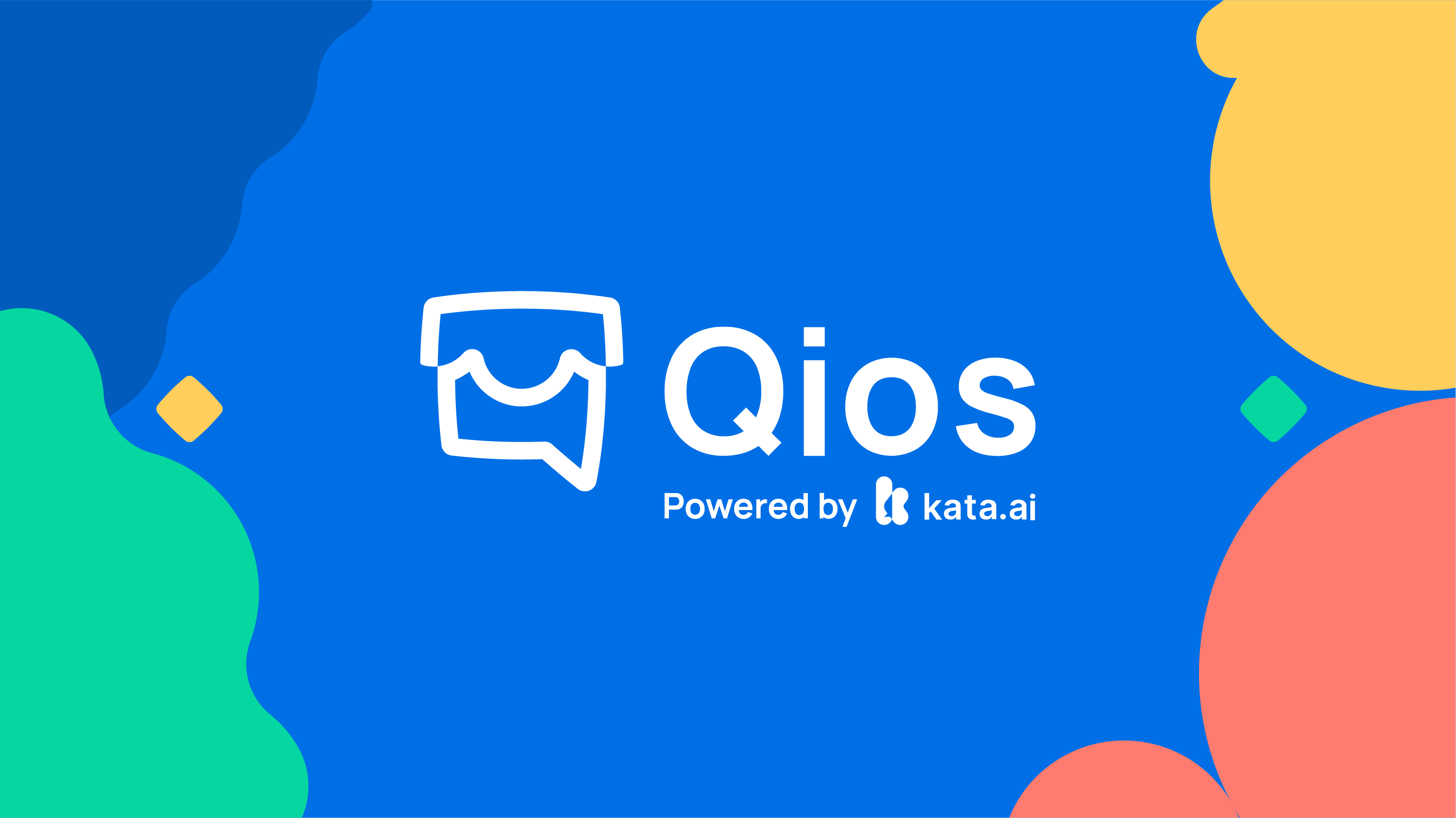 Kata.ai COO and Co-Founder Wahyu Wrehasnaya introduced in his keynote session Qios, Kata.ai's new automation-powered chat commerce platform aimed toward Indonesian small and medium businesses.
Qios can provide the seller's information to consumers and automate the purchasing experience while providing user analytics that can benefit SMEs. Qios also offers integration with popular messaging platforms, delivery services, and e-wallet providers to ease consumer and seller adoption.
Wahyu said that in Qios's beta test with Toko Kopi Tuku, an up and coming coffee shop franchise in Indonesia, the latter is able to speed up WhatsApp order from an average of 28 minutes to just two minutes. With Qios, the coffee shop has also been able to leverage WhatsApp, one of the country's leading messaging platforms, as a direct engagement channel while managing customer databases and analyzing purchasing behavior.
Wahyu hoped that Qios would be able to help SMEs by simplifying their online selling experience and allowing them to reach a wider-range of new consumers. With Indonesia's growing numbers of micro, small and medium businesses, more than 64 million as of 2018 and making up 99 percent of Indonesian business players, Qios also hopes to increase technology adoption as MSME digitalization is expected to add more than Rp 2.4 trillion to the country's gross domestic product (GDP).
Fireside chat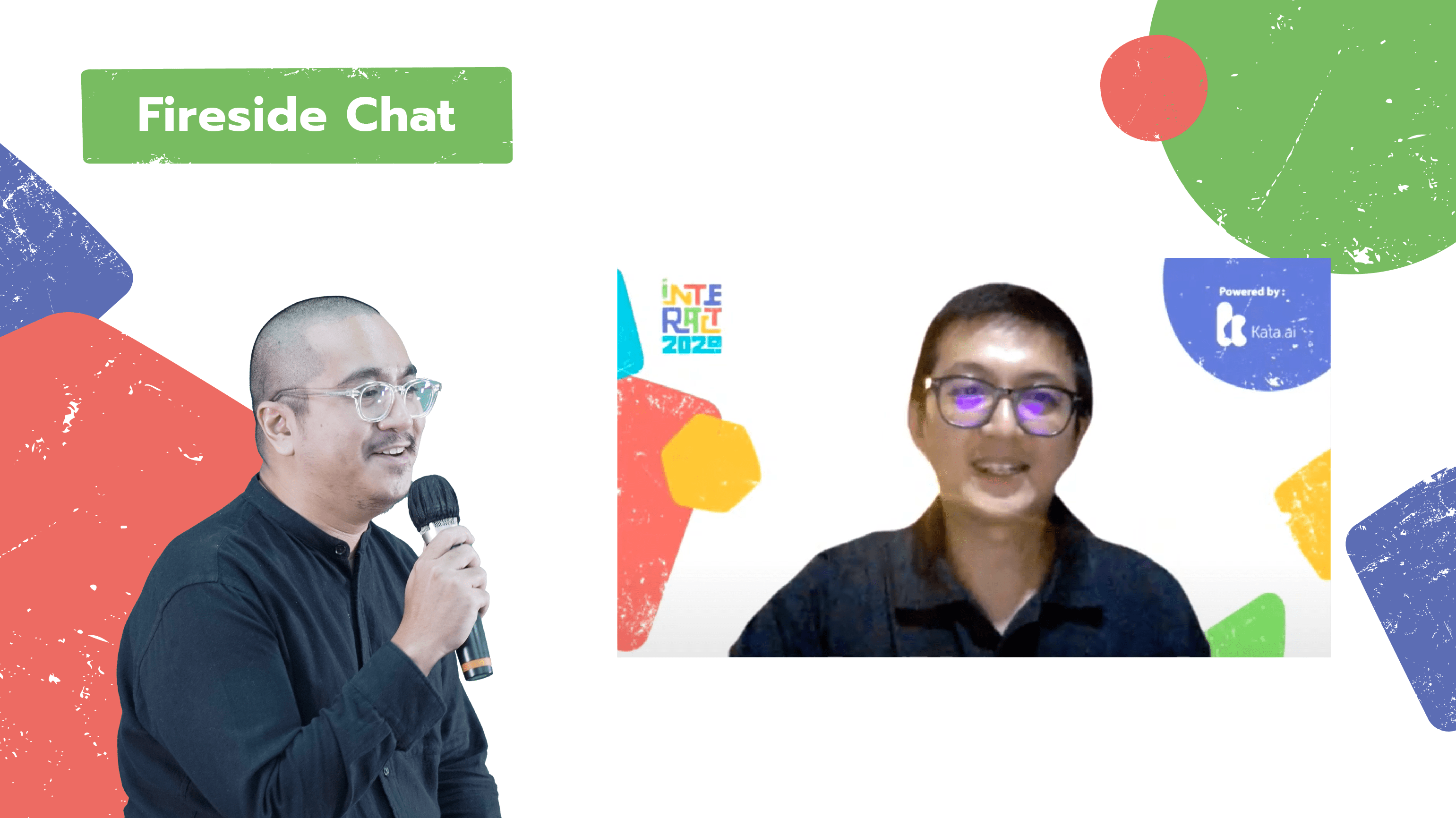 Kata.ai CMO and Co-Founder, Reynir Fauzan, also had brought the first fireside chat session in INTERACT with Amazon Web Service (AWS) Indonesia Country General Manager Gunawan Susanto, where both got to talk about how innovators in the country's startup scene have paved the way for many breakthroughs and new digital initiatives.
They also discussed the challenges facing the country's technological startups in marketing their innovations to conventional businesses. Gunawan said that startups need to educate and communicate on how their products can benefit the conventional corporations, using the example of how AWS convinced companies to shift from hardware-based solutions to investing in cloud computing.
Panel Discussions
INTERACT 2020 also brought several panel discussions, gathering industry players and business experts to discuss business opportunities and challenges amid the ongoing global health crisis.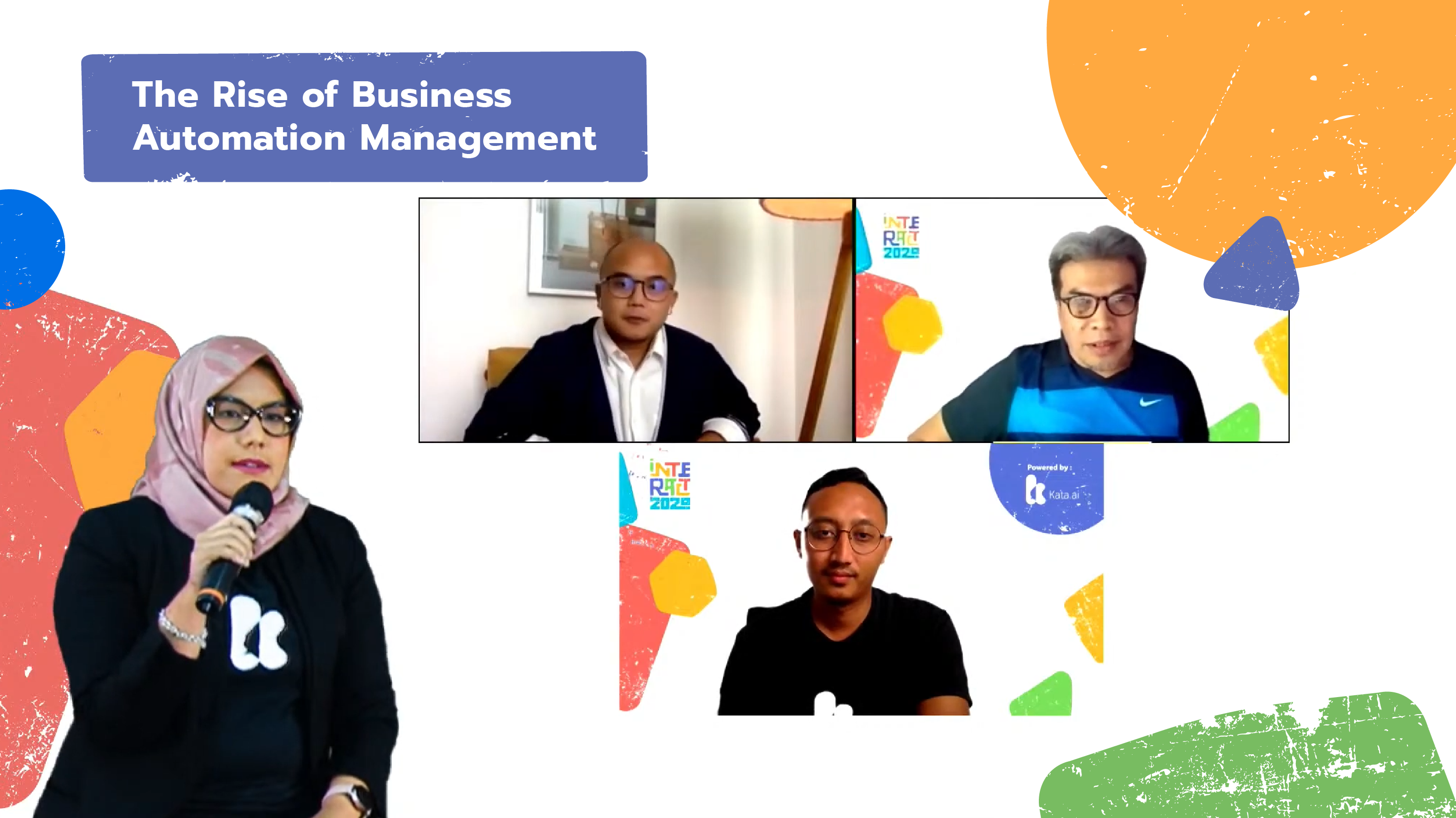 In discussing the rising adoption of automation in business management, Budi Satria Isman, CEO of investment firm Mikro Investindo Utama, said that aside from needing to improve overall business capacity, SMEs also need to keep technology in mind when their penning business plan in order to stay relevant in the ever-competitive field.
Andanu Prasetyo, the founder of Toko Kopi Tuku, also said that the challenges facing SMEs are not only to kick start the business with a relatively lacking tech expertise, but also to adjust operating capacity when experiencing the "spike" that usually occurs after adopting more technologically-advanced methods.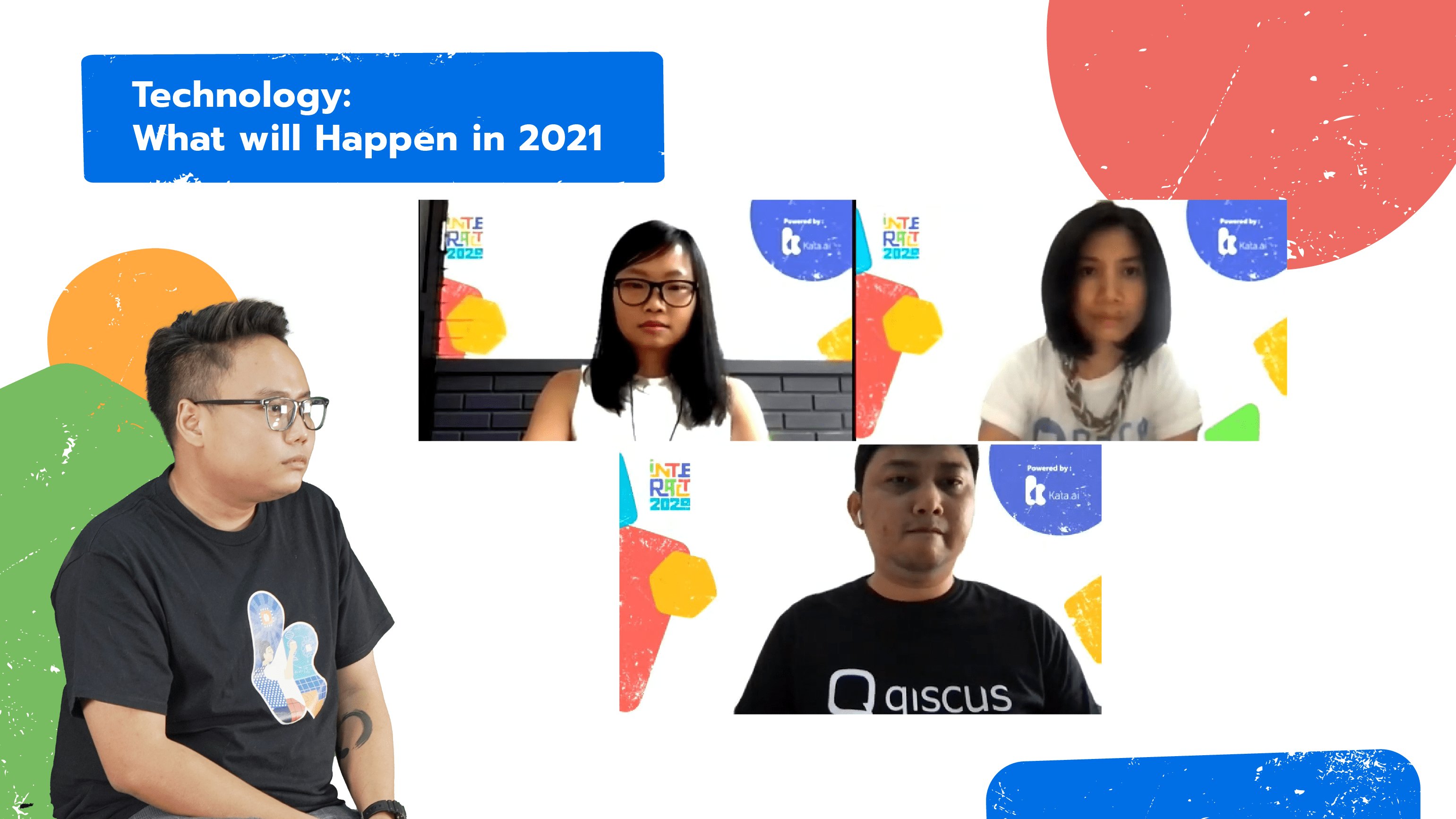 In the second session, the panelists discussed what challenges await businesses in 2021 as many countries across the world still grapple with the COVID-19 pandemic. For example, Theresia Tanzil, the Solution Architect Team Lead from web scraping service provider ScrapingHub, said that while the company had long adopted a remote-working culture as such that the mandate to work from home doesn't affect productivity and coordination, it also saw a reduction in clients due to budget cuts that also forced project postponement or cancellation.
Evan Purnama, CTO and Co-Founder of multichannel conversational platform Qiscus, said that while the pandemic-brought uncertainties will most likely haunt businesses well into next year, companies should now be able to make better predictions in terms of people's behavior and overall virus handling. Ignatia Suwarna, VP of Engineering of e-money provider DANA Indonesia, echoed similar sentiments, adding that businesses should focus on not only to survive, but also to thrive in 2021.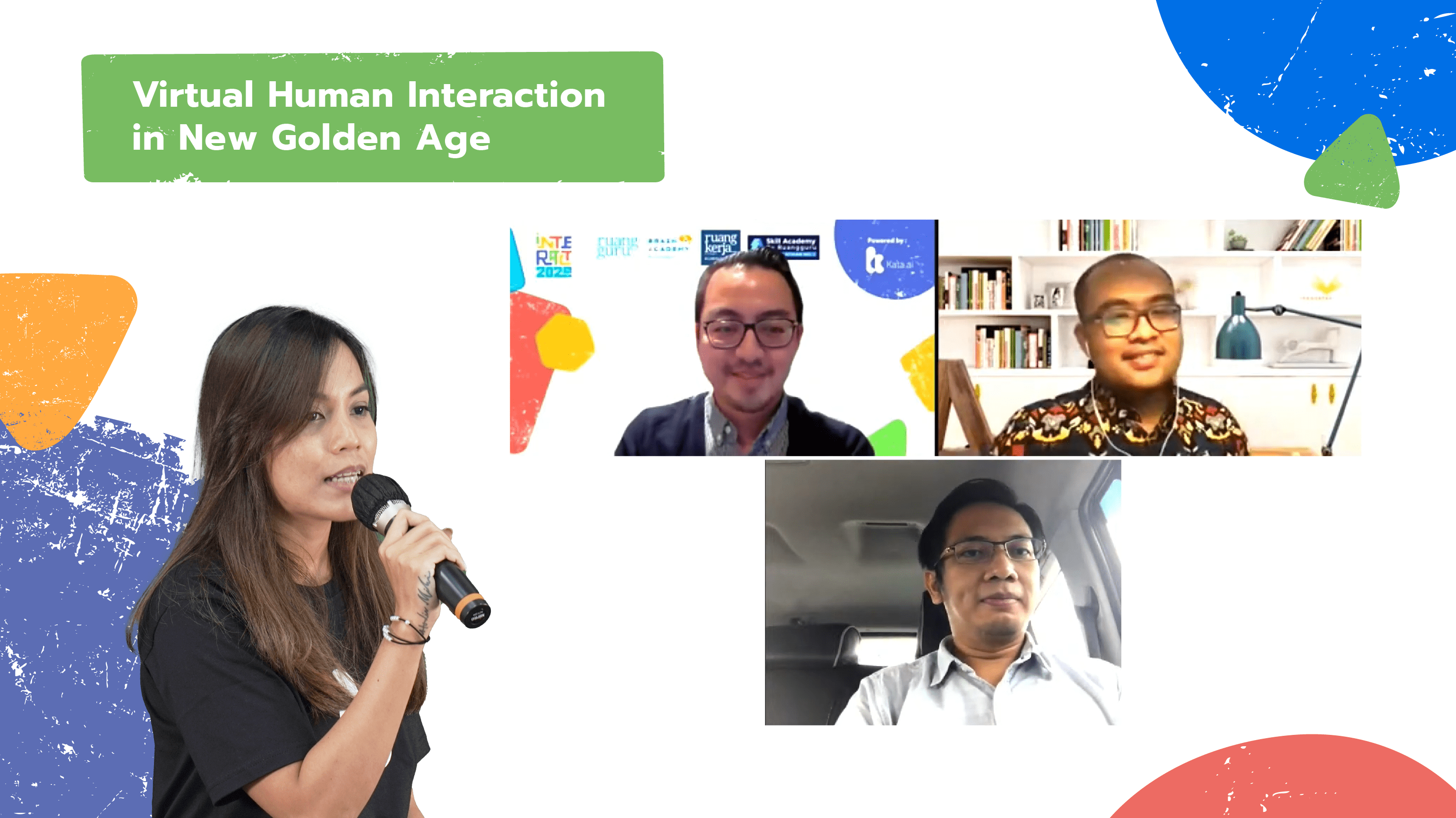 Aside from SMEs, the healthcare and education industry are also among the two sectors greatly affected by the COVID-19 pandemic as the health crisis forces people to stay at home, effectively postponing schools and on-site healthcare with the looming risk of infection. However, the subsequent massive increase of social interactions through digital platforms also presented a room for innovation for players in those industries.
The third panel discussion explored how players in the two sectors can capitalize on the current "golden age" of virtual human interactions amid many appeals to stay at home. Ritchie Gunawan, VP of Business and Operations of online learning startup Ruangguru, said that the golden age presents an enormous opportunity for the company to realize its vision of equitable access to education in Indonesia.
Rosi Setyo Nugroho, Product Management Lead of AI-powered telemedicine platform Prixa, said that the COVID-19 pandemic challenges healthcare businesses to innovate on how to provide the much-needed health services without risking COVID-19 exposure by asking patients to go to physical health facilities. In facing these changes, the Indonesian Research and Technology Minister's special staffer, Danang Rizki Ginanjar, said that the government had given its support through regulation enabling, including by launching the "One Data Indonesia" initiative in 2019 and the National Strategy on Artificial Intelligence (StranasKA) this year.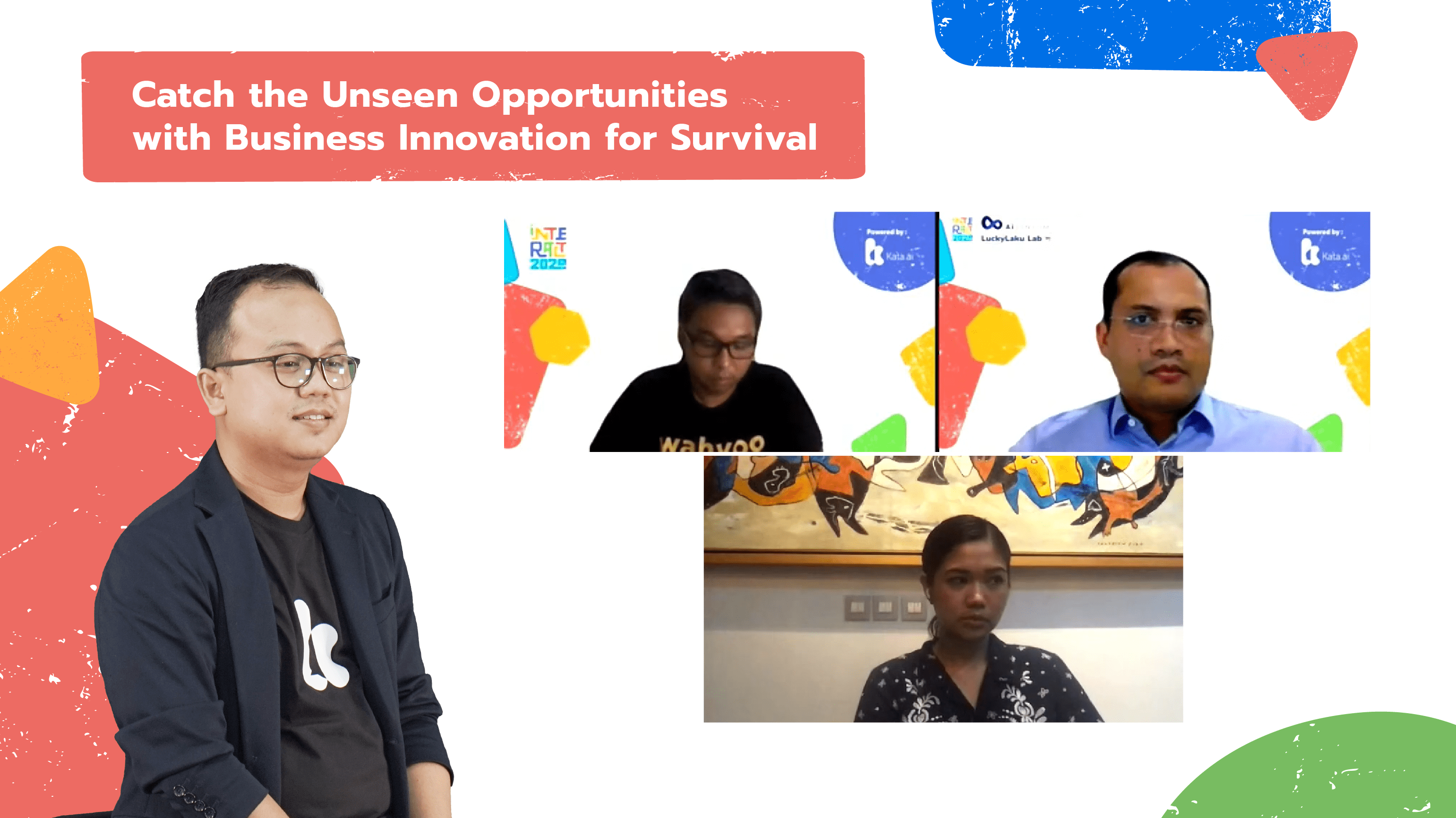 The final panel session discussed how businesses and industry players saw unseen opportunities amid 2020's many challenges. For example, Viviek Thomas from AI and big data analytics firm AiSensum said that more digital activities during the pandemic had led to an acceleration in digital marketing, particularly in performance marketing, as companies seek to make their digital marketing efforts more efficient.
Shinta Nurfauzia, Co-CEO and Co-Founder of healthy food brand Lemonilo, said that the company saw more demand as awareness of the need for a healthy lifestyle also increased amid the pandemic. Daniel Cahyadi, COO and Co-Founder of Wahyoo, an e-commerce platform that caters to supplying food joints with staple goods, said that the pandemic also causes increasing demands among restaurant owners to adopt the technology offered by Wahyoo.
KataHack 2.0 winner announcement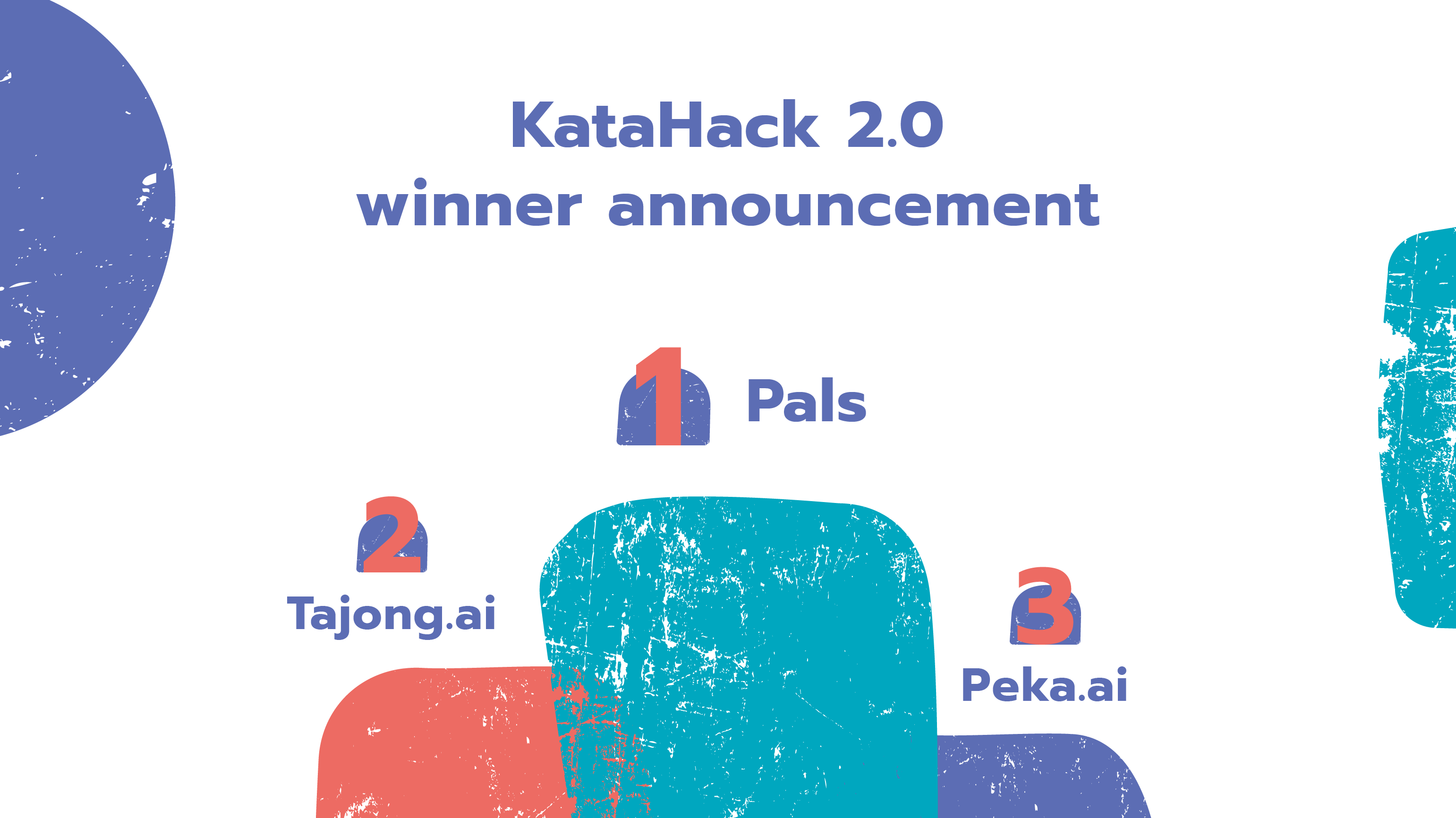 In INTERACT 2020, Kata.ai also announced the winner of the KataHack 2.0 hackathon that was started on October 19, 2020. The competition gathers 49 teams of developers and innovators that pitched ideas on solving problems in the business, healthcare, and education field using Kata.ai's technology. Kata.ai also provided online coaching sessions for the 15 shortlisted teams so that they could better understand and utilize Kata.ai's technology to its fullest potential.
From the five shortlisted teams in the final round, Kata.ai chose three winners that presented the best ideas and projects by using Kata.ai's technology to make people's lives better. Here are the three winners:
1st place: Pals - Pals app
The "Pals" app developed by the Pals team aims to make communicating with others easier for people with Cerebral Palsy, a permanent movement disorder that could also hinder one's ability to converse. With the app, people with Cerebral Palsy can answer questions with contextual answers that are presented in a friendly user interface.
2nd place: Tajong.AI - Hafalin app
The Tajong.AI team created a web application, "Hafalin", that can help parents evaluate their child's learning process, especially in memorizing learning materials. From an educational text, Hafalin will generate quizzes in the form of multiple-choice questions or essays to test the child's understanding of the given subject material.
3rd place: Peka.AI - Peka.AI chatbot and web app
The "Peka.AI" chatbot introduced by the Peka.AI team helps users predict breast cancer risk based on several health factors and provides examination recommendations. Peka.AI also provides a web app that contains educational materials to increase user awareness and understanding of breast cancer.
We congratulate all winners of KataHack 2.0. We cannot wait to see more innovations and breakthroughs being developed with Kata.ai solutions by the winners, participants, and other aspiring developers.

We also thanked all speakers, panelists, and participants for taking part in INTERACT 2020. Participants that missed the live session can watch the full conference again on our website, www.kata-interact.com. We cannot wait to see you again on INTERACT 2021!