Online stores have been growing by leaps and bounds in recent years, even the competition of online stores is fiercer than ever. But the average online shopping experience is missing something. Sure, it's quick and convenient, it can be done from anywhere at any time. But it typically lacks conversation, connection, and personal attention. If customers have questions, if they need help finding something, even if they leave without purchasing at all and abandon their shopping carts, there's no one to help out or take action.
Many online store owners use email to get their customers back to their website when it comes to saving abandoned carts. The problem with using email is that customers' inbox becomes flooded with brand messaging each day, and email from your store is getting lost in the mix. Hence, we offer a solution for your online store, so you can maximize conversions and minimize online shopping cart abandonment; this solution is called a chatbot.
Why chatbot?
Because this technology can engage shoppers at every step of their journey, guide your customers to conversions. You can use it to attract, interact with, bring back prospects, and you'll be providing that missing piece of the online shopping experience. It is a new way to get the conversation back to commerce and watch your revenue start to go up.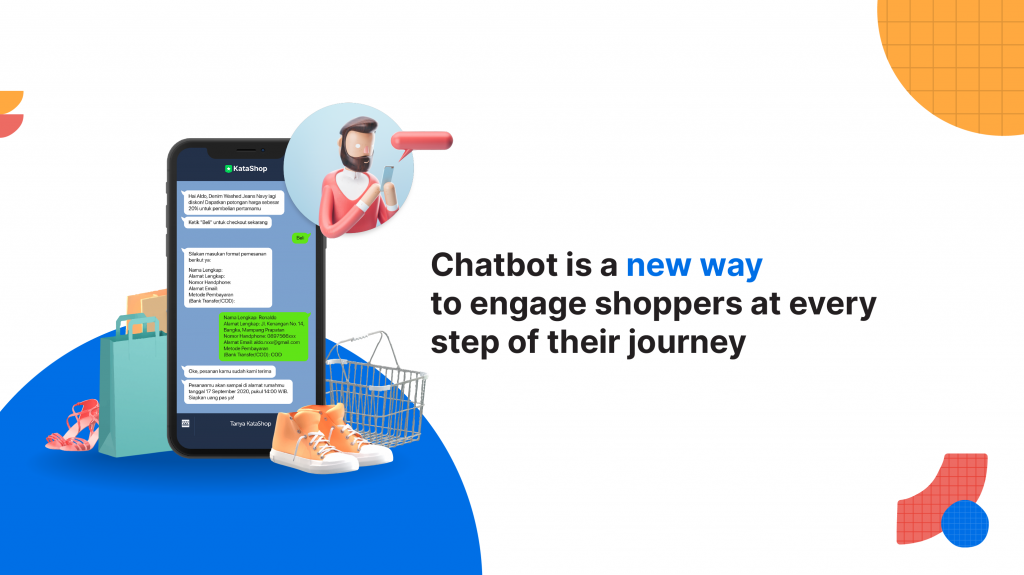 Here are the different ways in which a smart chatbot helps recover cart abandonment
Answer FAQs before and during the purchase
We'll start with an easy one. Let's say a prospect has a question about what kind of expedition is available to ship the order or wonder about your return policy. If they can't get that information, you risk losing sales just like that. Here's where a chatbot is useful. It can immediately answer customers' FAQs. The chances are that customers will ultimately hit the purchase button.
Guide and personalize the shopping experience
New Epsilon research indicates that 80% of customers say they're more likely to purchase from a brand that offers personalized experiences. A chatbot is one easy-to-implement tool that can help your online store to do this. For example, your chatbot can ask customers about their needs or preferences and save them as attributes or tags. The bot can then make product recommendations based on that information. Not only, this method helps you increase conversions, but it can create a memorable experience to keep customers coming back to your store.
Remind customers about their order
With a chatbot, you can send abandoned-cart reminders via messaging apps for maximum effectiveness. These channels tend to have higher open and engagement rates because they are the places where customers are already spending most of their screen time. For example, your chatbot can send reminders through WhatsApp and ask customers why they didn't complete their purchase. The goal is to answer their questions and help customers decide to buy.
Encourage action with promotions
Last but not least, promotion can be precisely what the customers need to complete their order. You can use a chatbot to send re-targeted promos like small discounts, free product samples for every purchase, or free shipping to convert prospects into sales.
In conclusion, to get the most online shopping cart conversion for your online store, you've got to engage with customers every step of the way. And to do this effectively at scale, chatbots are the answer.
If you want to know more about our chatbot solutions and schedule a demo with our team, you can click here.