Currently available digital technologies have helped businesses improve operations in many ways and for various activities, including for marketing. Many digital solutions to boost and enhance your marketing efforts are available, and one that you should pay attention to is chatbots for marketing.
But why should businesses even use chatbots for marketing efforts? Are there any real benefits of using a marketing chatbot compared to other solutions? This article will discuss all you need to know about marketing chatbot, including its benefits, key statistics, as well as what we have to offer for you.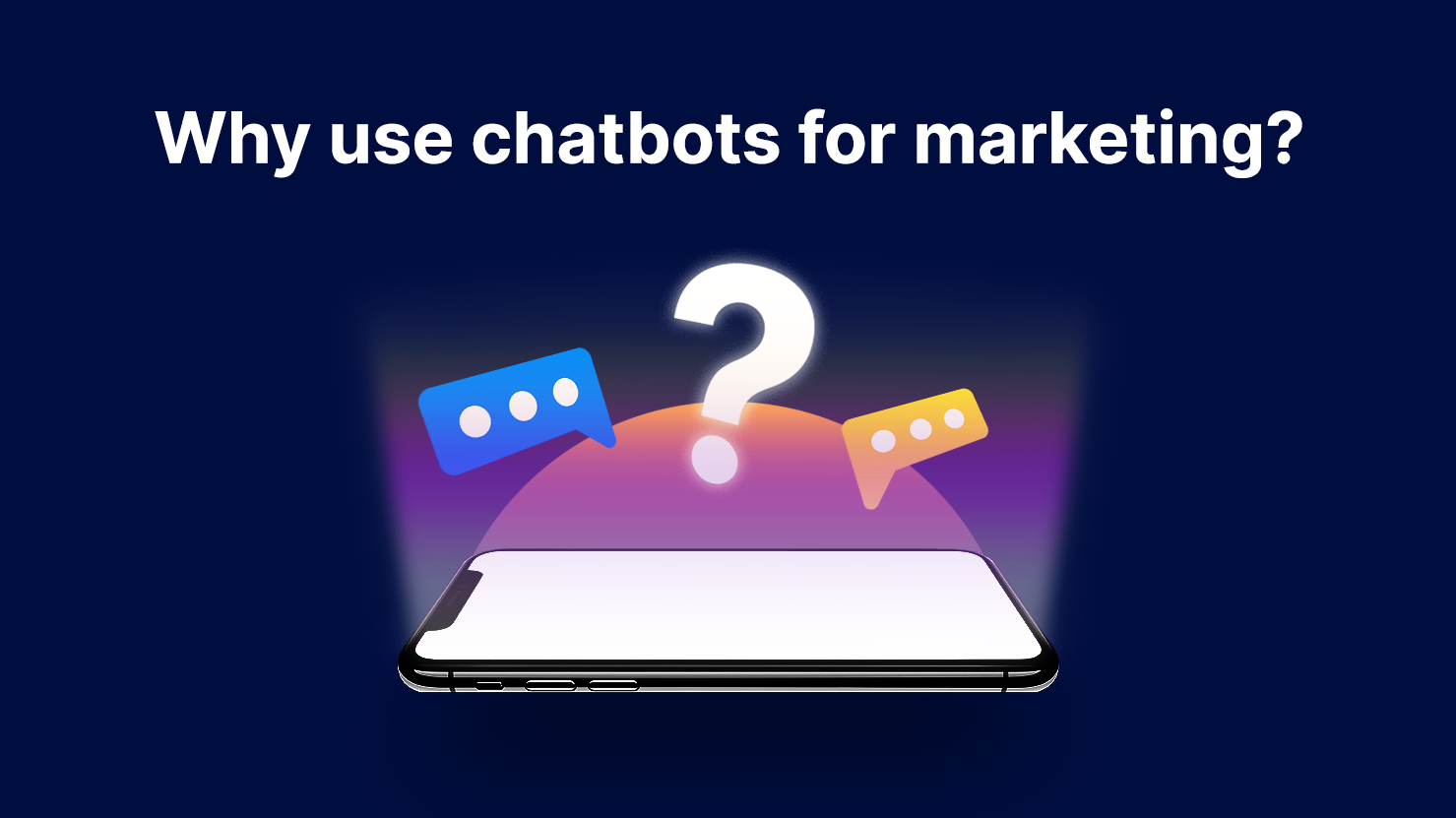 Why use chatbots for marketing?
With the advancements in conversational technology, businesses began using the solution for various kinds of use cases, including using chatbots for marketing purposes such as running campaigns, provide special offerings, as well as retargeting and reselling to prospects and existing customers. But why do businesses need to use chatbots for marketing?
Read Also: What Is Chatbot: An Evolution In Customer Interactions
Building personalized relationships
Marketing chatbots allow companies to interact with customers automatically and in a more personal way. This is particularly beneficial for marketing because building a personalized relationship is the key to gaining and retaining customers for your businesses. With chatbots for marketing, users do not have to go to multiple platforms to reach their favorite brands. Instead, customers can talk to businesses from the convenience of their favorite chat apps.
Marketing chatbots can also be programmed to talk with users however you want, be it formal to address a more sophisticated user base or the more way to address a younger audience. By utilizing the proper data, marketing chatbots also open many opportunities for personalized interactions. This can vary from wishing users birthday greetings to special day reminders.
Knowing your customer better
Speaking of the proper data, you can also use a chatbot for marketing to get to know your customers better. This allows you to better design your marketing campaigns according to relevant insights such as your customers' behavior, interests, and preferences.
Here are some marketing chatbot use cases that can help businesses know their customers better:
Gathering user identification data, such as name, birthday, age, and other needed information.
Gaining conversational data from users, such as most asked questions, most used words, or most used features.
Remembering transactions and purchasing history to help determine user product or service preferences.
Running a user feedback survey to get direct inputs related to products and services.
Improve services and campaigns
With the user insights gained from interactions with your marketing chatbots, you can then use those valuable data to improve various aspects of your business, such as:
Give a better product recommendation based on customers' preferences and behavior, which can be analyzed through their purchasing history and product receptions.
Plan, develop, and execute more engaging and effective marketing campaigns or promotions based on various insights, such as user preferences and how they received previous marketing campaigns.
Create an easily accessible loyalty program that can reward loyal customers with special offerings through your marketing chatbot
Get direct feedback from users from direct interactions or by running customer satisfaction or other marketing surveys, which your users can access more conveniently on their chat apps.
Create a better end-to-end marketing funnel
Not only can a marketing chatbot boost your marketing effort on the user-end, but you can also develop a chatbot that enables an end-to-end marketing funnel experience by helping with things on the business end as well.
You can program your chatbot to classify user information as lead data, making filling out lead forms a thing of the past. You can also use user-related data gained from the chatbot, such as retention, engagement, and return rates, as additional indicators in your lead scoring system, making sure that you can gain more qualified leads.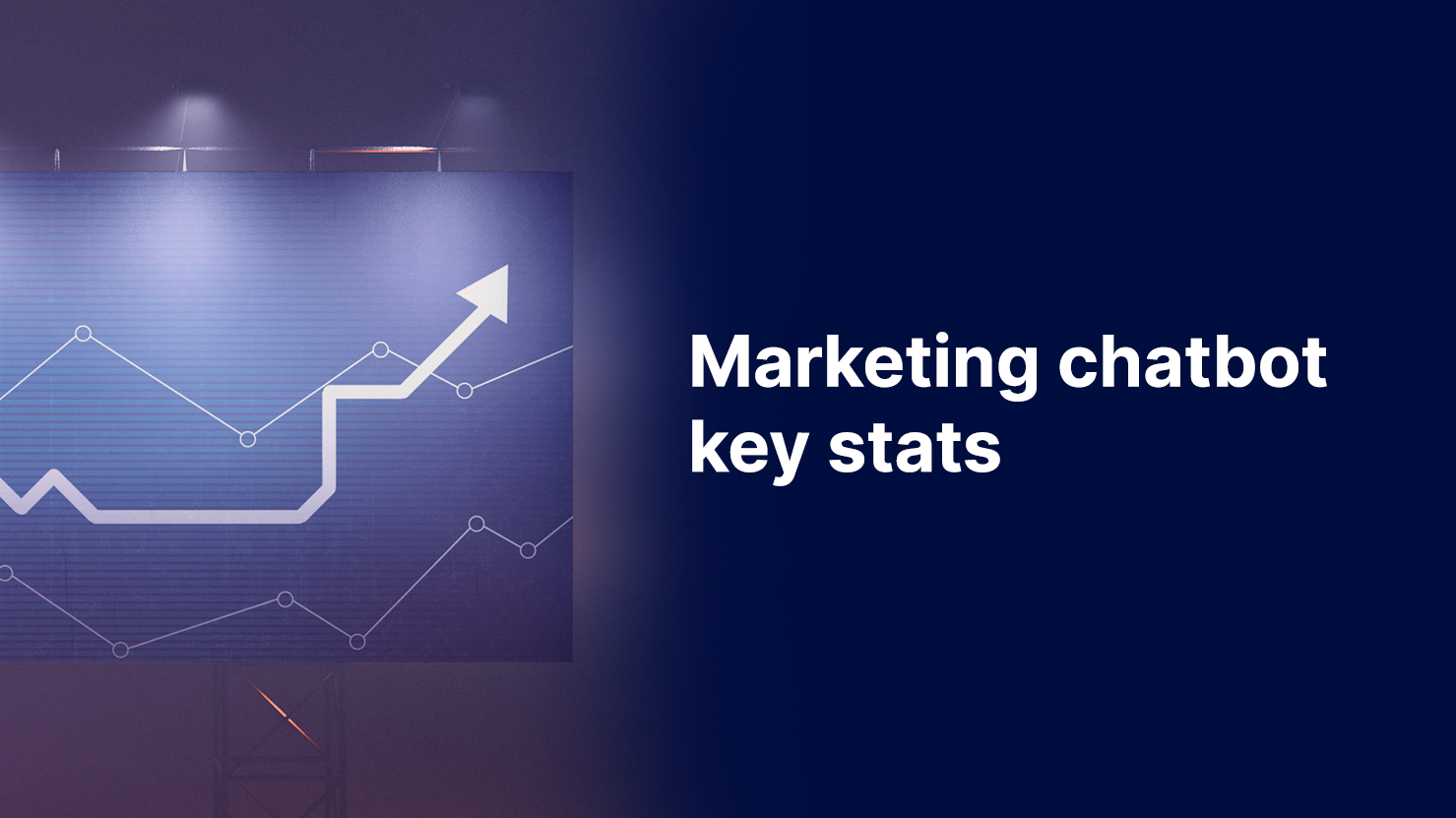 Key statistics of chatbots for marketing
Chatbots, with all their benefits and features, have been used by companies around the world to improve their marketing efforts. Their interest continues to grow as companies find more ways to integrate chatbots into their workflow, and this resulted in many statistical findings that supported the idea of chatbots being the future of digital marketing.
Here are some of the key statistics that would surely pique the interest of marketers that are looking to implement a marketing chatbot:
Chatbots enabled a more personalized service
A study conducted by Statista in 2017 showed that over 64% of respondents consisting of business owners agree that implementing chatbots allows them to provide more personalized service and experience for their customers.
This statistic shows that businesses are utilizing chatbots to give experiences that are more relevant to their customer's needs and preferences, which raises the chance of them forming an attachment to your brand. And this is especially important as other findings suggest that:
Customers prefer businesses that offer personalized experiences
Several studies have shown that customers are more likely to take their businesses to companies that offer them more personalized experiences. A 2018 report from Accenture suggests that 91% of consumers are more likely to buy from brands that remember their customers and provide relevant offers and recommendations.
In addition, a 2018 research by Epsilon also found that 80% of consumers are more likely to buy goods and services from companies that offer personalized experiences. This should encourage businesses to use technologies such as chatbots to get to know their customers better, because:
Customers are willing to share their data for personalized experiences
To provide more relevant and personalized services, businesses need to gather key customer data and insights, and several studies suggest that buyers are actually willing to share their information in exchange for a better experience.
The above-mentioned study by Accenture also showed that 83% of customers would be okay sharing their data with brands if it means that they can get a more personalized experience. Similarly, SmarterHQ found in 2017 that 70% of millennial buyers would be okay with sharing their browsing and shopping behavior with brands if it means that they can get a better shopping experience. That is how much they value personalization!
However, brands also need to be responsible for the insights from their valued customers as the same Accenture study found consumers would be against brand and customer relationships that are too personal or invasive, especially when businesses used data and information about their customers that they did not share knowingly.
Those key statistics — in essence — showed that customers love brands that pay attention to their needs and preferences and use them accordingly to provide a better customer experience. And chatbots can be a perfect tool for businesses that want to know their customers better.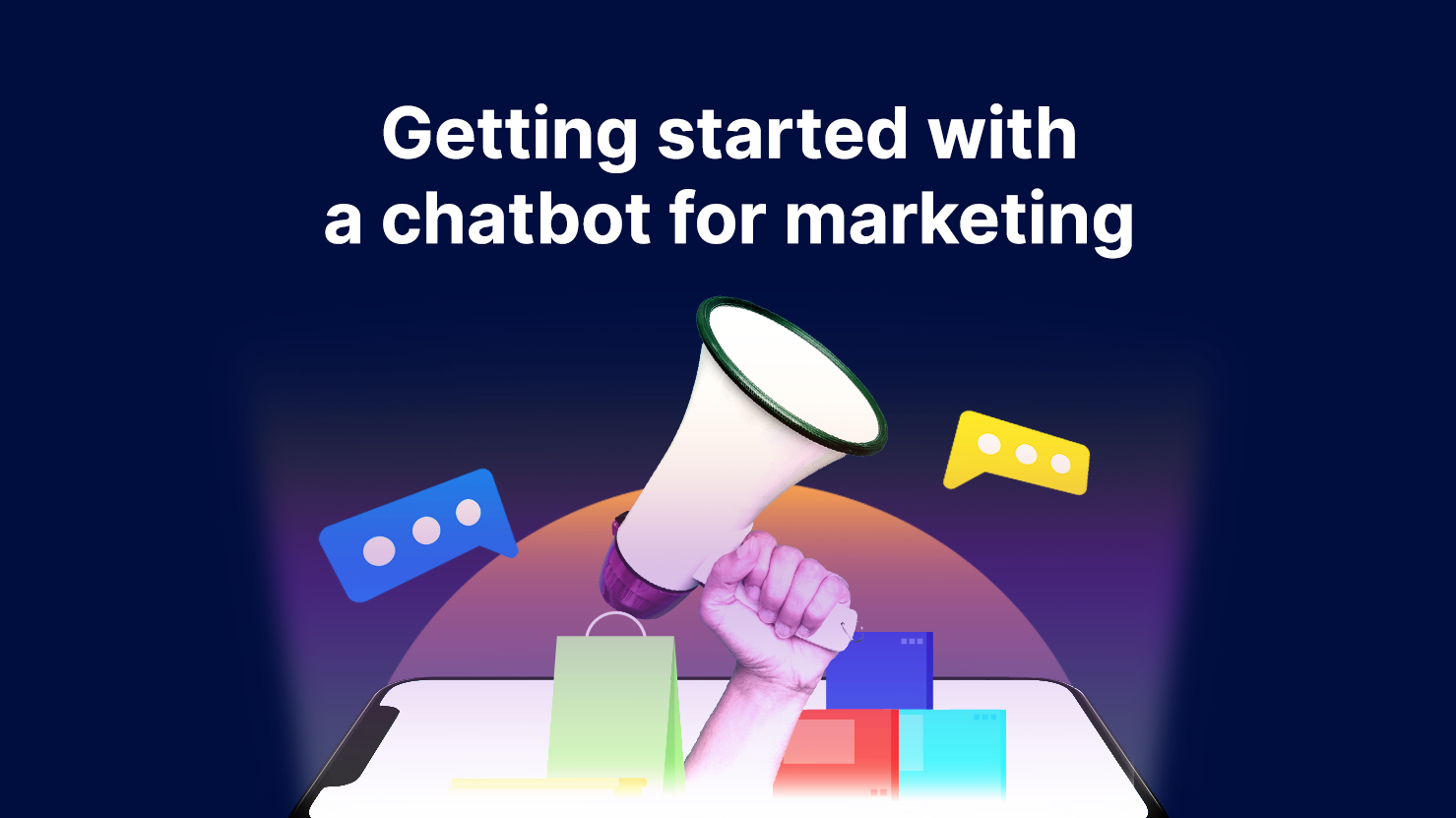 Getting started with a chatbot for marketing
After discussing the benefits and supporting key statistics of chatbots for marketing, you might be wondering how your business can start using chatbots to supercharge your marketing efforts. We have the right solution for you!
With our range of conversational AI solutions, you can develop a chatbot that is well suited to your business goals and needs, including for marketing engagement. Aside from the previously-mentioned benefits, here is what you can do with our chatbot for marketing engagement solution can do:
Drive more effective engagement
Our solution can help businesses discover topics and features that your customers are most interested in and tailor your marketing campaign based on those actionable insights. You can also run the campaign on any channel that your customers prefer to ensure high engagement and conversion rates.
Turn traffic into growing revenue
With our solution, businesses can send rich messages to better inform customers about their products or services. A marketing chatbot also allows you to display your product the right way with interactive visuals to draw customers' attention with your special offers.
Seamless customer experience
Our marketing chatbot solution can also help businesses deliver a 24/7 and seamless customer experience across multiple digital channels, enabling companies to always be there for their customers. With our solution, businesses can also perform A/B testing on your virtual assistant to learn which content works best.
Track everything in real-time
Last but not least, our solution can help you get actionable insights and data on your virtual assistant and marketing campaign performance to have a clear overview of your customers' reception. This can help you craft a better marketing campaign in the future to achieve more goals.
You can find out more information about our marketing chatbot solution by visiting the marketing engagement solution page of our website.
Conclusions
Marketing chatbots can be a powerful tool to not only support but to supercharge your marketing efforts. With a wide range of benefits – from building better relationships with customers to gaining more actionable insights – and success stories from established companies, chatbots for marketing can be the perfect solution for your business too!