Chatbot has been one of the most innovative and useful communication technologies that were introduced in the past few years. In particular, businesses have been utilizing it to engage and interact better with their customers. This is also supported by the main benefit of chatbots, which is their ability to be integrated into popular chat applications, including chatbots on Telegram.
However, with many other popular messaging platforms out there, why should businesses bother to integrate their chatbot with Telegram, and what are the advantages of the platform compared to other ones?
To answer those questions and see why businesses should utilize Telegram as a channel to integrate their chatbots on, we will first discuss what exactly a Telegram chatbot is.

What is a Telegram chatbot?
Like the name might suggest, a Telegram chatbot is a chatbot that you developed to be integrated into the Telegram chat app. Telegram itself allows you to integrate your own chatbots to the conversational platform with its Bot API, an HTTP-based interface that can be controlled by sending HTTPS requests.
Read Also: What is Chatbot? An Evolution In Customer Interactions
According to Telegram's own guide on using bots on the platform, Telegram bots need to be integrated into a particular account that does not require an additional phone number to be set up. Generally, Telegram users can then interact with the bots by opening a chat with them or adding the bot to particular group chat rooms.
With Telegram's Bot API, which allows users to create chatbots on Telegram, text, media, and other files are passed to the chatbot software running in your servers. In addition, the API will act as an intermediary server that handles all encryption and communication via a simple HTTPS interface.
By using chatbots for Telegram, businesses and developers can engage with Telegram users in a whole lot of new ways by taking advantage of their special perks, including:


1. Inline mode:
Chatbot for Telegram developers can also program their bots to be accessed without users having to interact with them directly. This kind of Telegram chatbots is often referred to as inline bots, where users can request access to them by typing the bots' @username followed by a query.
The Inline features allow users to interact with users in any chat and text input fields, including the one on telegram groups or channels. This can expand the reach of your chatbot and will
2. Payment platform mode:
Businesses can also use their Telegram chatbot as a payment platform, allowing them to accept payments from Telegram users across the country or even from around the world from their Telegram mobile or desktop app.
Telegram also enabled several payment features to make your customer's payment experience better with your Telegram bots. With the ability to send invoices to any chat room, show your goods and services to other chat rooms with the inline feature, receive tips with presets and custom amounts, and many more!
3. Gaming platform mode:
You can also program a chatbot for Telegram to allow users to play HTML5 games, either by themselves or with friends. This allows your Telegram bots, and your business, to provide a way for users to engage, unlike any other platforms, by integrating custom-made and engaging games.
According to Telegram bot information, these HTML5 games can vary from simple puzzle or arcade games to complex 3D games such as shooters or real-time strategy. By implementing games creatively, you can compel users to engage with your bots and provide information about your products and brands in a really unique and creative way.
Integrating their chatbots to Telegram allows businesses to take advantage of the special set of features that are unique to the chat platform. But with other popular chat platforms available, why should you bother with integrating your chatbot to Telegram?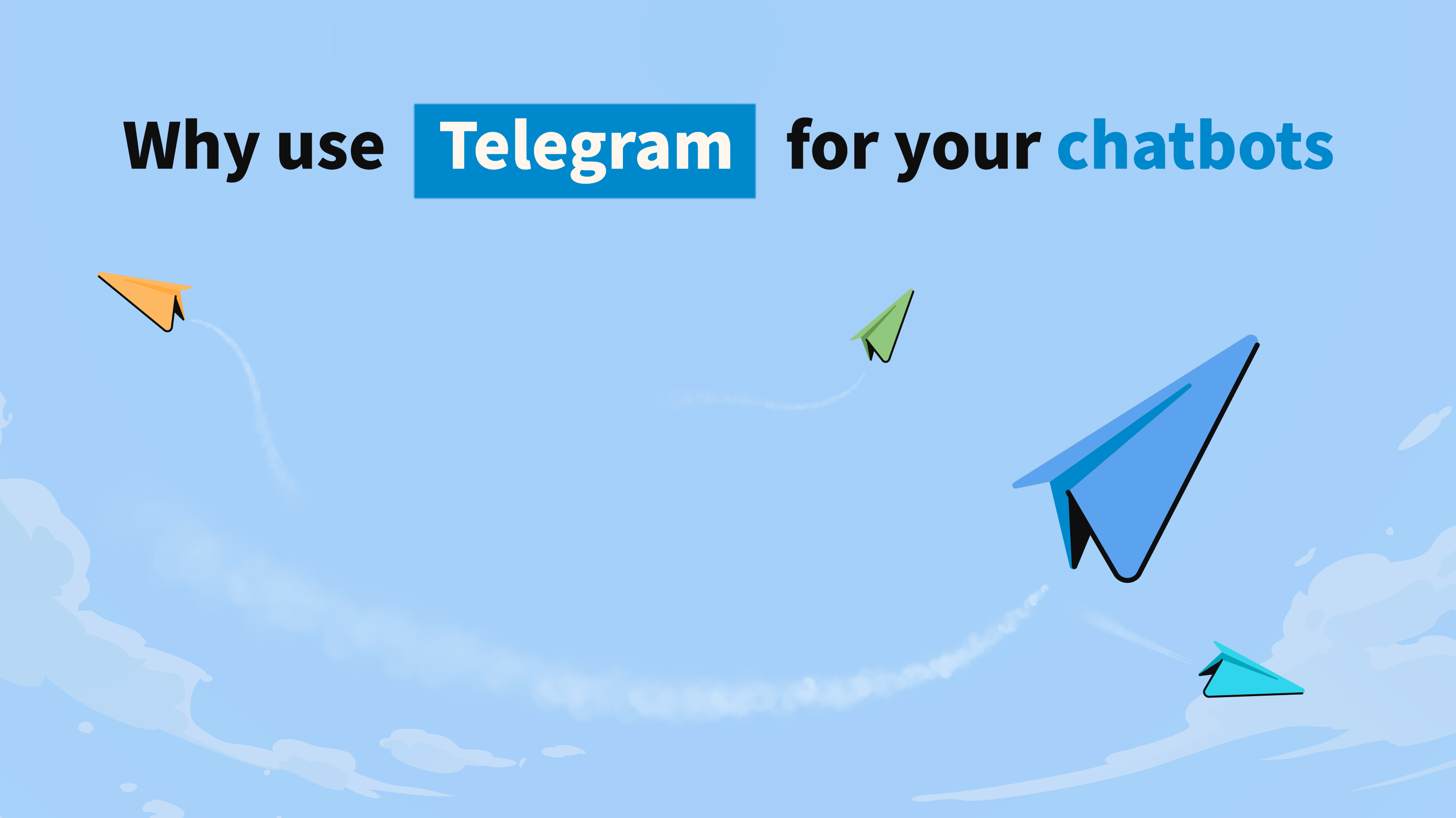 Why use Telegram for your chatbot?
Since the rise in popularity of instant messaging over the past few years, several companies have been introducing their own take on chat apps that allow users to interact with others in the best way possible. And Telegram is one of them, introduced in mid-2013 to the market that is already filled by global competitors such as WhatsApp, BlackBerry Messenger, and LINE.
Read Also: Chatbot for WhatsApp: All You Need To Know
However, Telegram offers several advantages that have made it stand out from other competing messaging platforms, including:
1. Security and privacy features:
Telegram boasts increased security and privacy as one of its stand-out features, being one of the first messaging platforms that offer end-to-end encryption for personal and group chats, as well as voice calls.
As an added security feature, Telegram even provides an option to self-destruct messages, including ones that contain files, images, and videos, after a certain amount of time has already passed since they were sent or received.
2. Expanded group chats and channel capability:
As one of its differentiating advantages, Telegram also allows for a larger capacity for group chats, being able to join a maximum of 1,000 members on group chats and even more for "supergroups". This is way more compared to Telegram's competitors, such as WhatsApp and LINE that only allow up to 256 and 500 members per group respectively.
Aside from the expanded group chat feature, Telegram also allows you to create channels where you can broadcast messages to an unlimited number of subscribers. This is very beneficial for a number of use cases, including for businesses where using channels allows them to communicate to a large number of people to send marketing campaigns and other messages.
3. Enhanced file-sharing feature:
Unlike its competitors, Telegram offers a more powerful and rich file-sharing feature, such as allowing users to share very large files—with the maximum size being 2GB per file compared to 200MB and 16MB allowed by LINE and WhatsApp respectively.
Telegram's file-sharing feature also supports more file extensions compared to other chat platforms, allowing users to share various kinds of files, such as ".ai", ".psd", and ".zip" files, for example.
4. Cloud storage utilization:
With more and more people sharing all kinds of media — such as images, videos, and files — with chat platforms, it can also be easy for you to clutter your devices' storage with unwanted files shared by your friends or relatives. But Telegram is trying to solve this problem by utilizing cloud storage.
Telegram stores data such as media files and texts on the cloud, so you will not have to worry about keeping them in local storage. The cloud system also offers other benefits, such as faster backup and restore experience and the ability to access those data from any device quickly and easily.
5. Robust chatbots integration:
Last but not least, Telegram also has a robust bot integration feature that enables developers and businesses to develop various kinds of Telegram chatbots. The chatbots for Telegram are also supported by Artificial Intelligence (AI) and Machine Learning (ML) technologies to enable more advanced features and capabilities.
With the features mentioned earlier and benefits, Telegram can compete with other chat apps and is now recognized as one of the most-used messaging services. The platform has more than 500 million monthly active users (MAU) as of January 2021, increasing from around 400 million MAU recorded in April 2020.
The growing number of users also applies in Indonesia with the chat apps gaining popularity among tech and internet enthusiasts. And by integrating their chatbots on Telegram, businesses can reach a wide and growing audience. But how can businesses get started on integrating their chatbot on Telegram?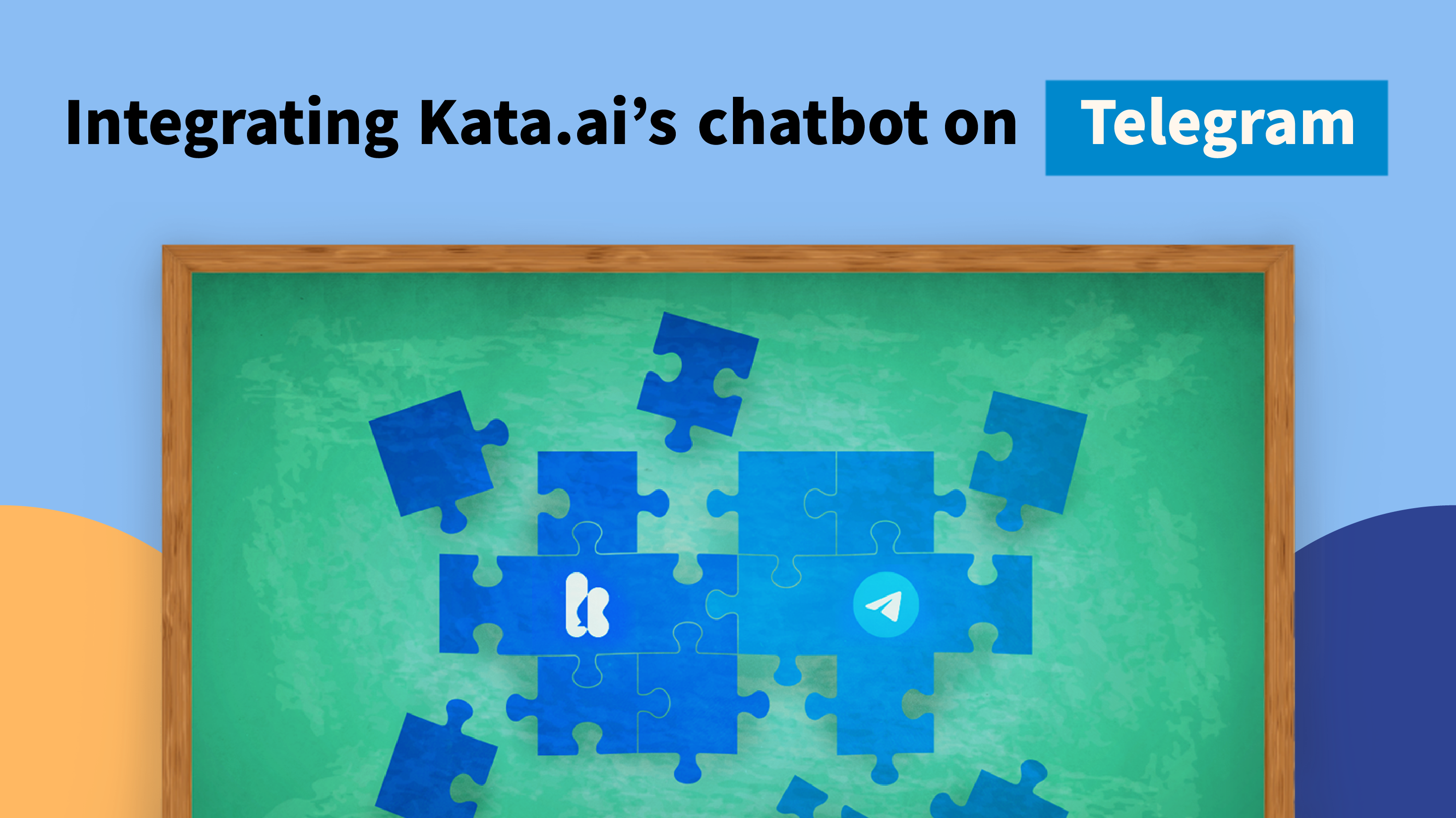 Integrating Kata.ai chatbots on Telegram
Businesses that develop their chatbot with Kata.ai's Kata Conversational Suite solution can easily integrate their bots on Telegram, the only requirement is for you to have a Telegram account and be able to access Telegram's desktop app.
You can start by registering your chatbot to the BotFather—a tool provided by Telegram that allows users to build chatbots and register chatbot usernames. After that, BotFather will provide you with a bot token that you will need to use the Telegram Bot API.
With the chatbot username registered and bot token provided, you can then create a Telegram channel on your Kata Platform dashboard on the "environment" feature. You will have to use the bot token you obtained from BotFather.
After integrating the telegram bot username with your Kata Platform dashboard, you can then begin setting up other things, such as a Webhook URL, to complete your Telegram chatbot experience. You can find more information about integrating your Kata.ai chatbots to Telegram by visiting our Kata Platform Documentation page.
Conclusions:
Telegram has earned its place among the other popular chat apps with advantages and features that are not present in other messaging platforms, from more beefy security and privacy features to robust bots and AI capabilities. Telegram has gained the interest of millions of users, and more and more are trying out the platform every single day.
With the large and growing user base, businesses should seriously consider integrating their chatbots into Telegram in order to allow more users to engage, interact, and establish relationships with their brands.