"How can I increase my business' revenue?" the entrepreneurs among you might often wonder, and rightfully so. Not only will increasing revenue ensure your business's future, but it can also help you achieve the growth that you have targeted, as every business surely wants to grow at a healthy rate.
Fortunately for businesses today, we live in a digital era that presents many opportunities for them to improve critical aspects of their business and ultimately boost their revenue. Businesses can take advantage of digital strategy solutions to achieve that goal.
But first, why should businesses consider implementing digital solutions and strategies? And what digital approach should they adopt to boost revenue? Let us break it down one by one.
Why should businesses rely on digital strategies?
Before we talk about utilizing digital strategies to increase your business revenue, why should businesses even rely on digital solutions in the first place? Why should they not increase their efforts in traditional solutions?
Read also: Why Today is the Right Time for Indonesian SMEs to Go Digital
It turns out, a study conducted by global research and advisory firm Gartner in 2017 showed most businesses believe that digital transformation in their businesses has led to an increase in revenue.
More specifically, 56% of global chief executive officers (CEOs) that were interviewed, believed that digital improvements have already improved their businesses' profits. According to the same study, this also set expectations among board directors, which challenged 47% of CEOs to make progress in digital business.
More comprehensive statistics were also presented by SAP's 2017 Digital Transformation Executive Study, in which they involved over 3,100 executives around the world. The survey showed that 80% believed digital transformation had increased their profitability, with 23% expecting higher revenue growth of up to 23% within the next two years.
These indicated a shift in the business dynamics, showing that business leaders are no longer encouraged to take the digital leap; they are expected to boost their revenue. These statistics might help convince those among you who still believe digital strategy should be put on the sideline.
Most businesses that already implemented digital strategies and solutions have enjoyed several key benefits, including:
Support data-based approaches
With digital strategies and solutions, businesses can gather crucial data easier, process them, and get a better understanding of many insights that can benefit their operations.
For example, keeping tabs on customer insights, from their name, occupation, to how much they are interested in your products and services, usually demanded manual labor back in the door-to-door sales days. This requires a lot of work and takes up so much time, even though the data is very crucial to business operations.
Nowadays, with technology such as online forms, you can quickly gather, keep, and organize important information from your customers. This makes operations more efficient and ultimately can lead to more sales and revenue.
Increase employee productivity
While we mentioned above that manually gathering and managing customer information requires a lot of work, a lot of other things are very inefficient when done manually. From data inputting to document filing, these things took up a lot of time and resources without the help of proper digital technology and solutions.
By utilizing digital solutions and strategies, businesses can automate or even remove the menial and mundane tasks, freeing up rooms for their workers to take care of the more meaningful and complex tasks.
With the menial work digitally taken care of and workers being focused on the more complex tasks, businesses can increase their productivity, which can ultimately lead to more money coming their way.
Improve market penetration
Properly implemented digital marketing and sales strategy can help your businesses lead many potential customers directly to you. This is because more and more people are relying on the internet to find new information, goods, and services, to the point where digital marketing and sales strategies are a must for modern businesses.
By using digital marketing strategies, potential customers can more easily know and have information about the products and services that your business offers. This can be from them discovering your business by themselves (inbound marketing), or from you directly reaching out to them (outbound marketing).
With more and more people knowing and becoming aware of your business, you have essentially increased your potential customers. This can obviously lead to more revenue for your business.
Increase business resilience
Adopting and getting accustomed to digital strategies will make your business more resilient to uncertain conditions that would normally impact revenue. One of the most notable examples of this is the current COVID-19 pandemic that really restricted social and outdoor activities, affecting a lot of businesses.
A good example would be if your business already has a solid digital advertising strategy, which would not prevent people from seeing your products and services in a world where social restrictions are being implemented everywhere. For more goods-based brands, digital commerce strategies could be a lifesaver in a condition where people could not easily go out and shop without risking their health.
This benefit is not so much about increasing revenue but more about how you can maintain yours in a condition where everyone is struggling. The key is that before your business could thrive, it should first survive.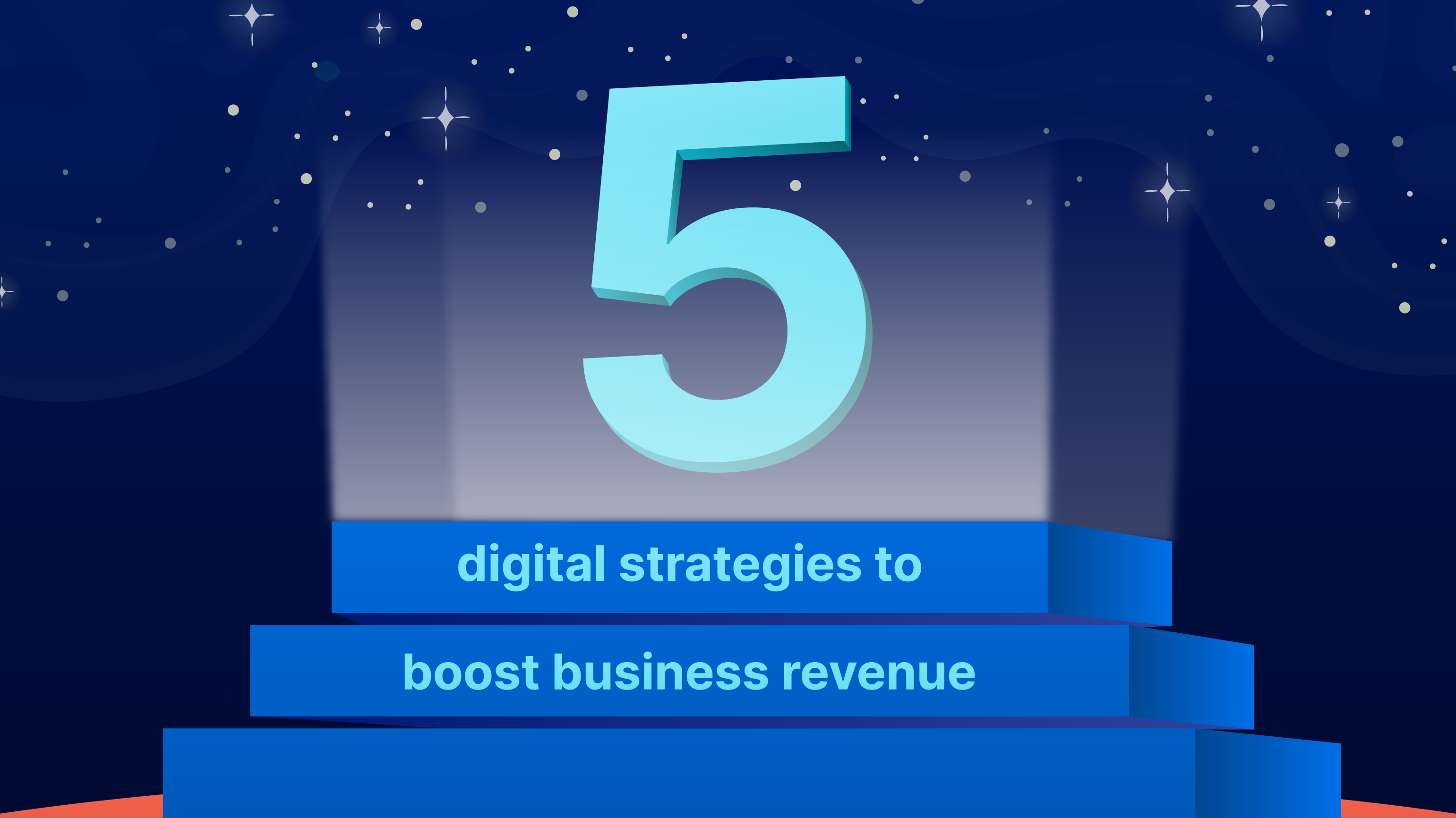 5 digital strategies to boost business revenue
With the statistics and key benefits of digital strategies laid out, you might now be thinking about what digital strategies that you should utilize and put your money on to support your business bottom line.
Read also: How Indonesia Plans to Develop with Artificial Intelligence
While there is more to explore in terms of digital strategies, these are the five most important ones to implement in order to maximize your revenue.
1. Be where your customers are with social media
Reports from social media platforms show that, as of 2020, there are 3,69 billion people that use social media, a 10.9% increase compared to the previous year. So not being active on social media means that you are preventing billions of people from getting to know your business better.
Social media can be a great free and paid tool for business exposure and engagement. You can use social media platforms to establish your business brand, offer various kinds of information about your product or service, and even do more direct marketing promotions.
By using social media to brand and market your business and using a proper social media strategy, you can expect more sales to come in as you expose millions of people to your business. It is a perfect medium for you to reach your audience and build their trust in order to convince them to use and keep using your product or service.
2. Ensure more stable revenue streams with digital subscriptions
A subscription model is not something new to the digital business landscape. However, the digital business model offers an easy way for customers to pay and manage their subscriptions easier than ever before. They can start a new subscription and cancel existing ones just by a few taps of their fingers, and payment is just as easy as putting in their credit card numbers or using e-wallet services.
A subscription model is especially suitable for brands that mainly sell software or digital products, turning them into a service that requires a recurring payment. The companies that used this model are nowadays referred to as a Software as a Service company (SaaS), with major ones like Adobe and Spotify finding success with subscriptions.
However, brands that sell physical goods have found similar success in bundling and packaging their products into subscription services. For example, US-based Blue Apron offers a subscription to have fresh and easy-to-prepare meal ingredients delivered directly to your home while Dollar Shave Club offers subscription packages that would have grooming products periodically supplied to customers.
With subscriptions, businesses can ensure a constant revenue stream, which puts them at an advantage when making business plans. This one is more about maintaining revenue consistency than having more money because you can also plan business growth better with a more stable revenue source.
3. Put your business out on the world with digital advertising
While we mentioned above that social media is a great tool to reach an audience, digital advertising is an even more suitable tool for you that wants to reach specific targeted audiences that are relevant to your business.
Digital advertising is like traditional advertising, as you essentially put engaging ads that attract people to learn more about and purchase your products and services. However, digital advertising strategies can put your ads on digital channels that your target audience frequently uses, so you can make sure that they see what your business has to say.
Not only can digital advertising expose your brand to the right people, which can lead to greater revenue gains, it is also more resilient than traditional advertising. PricewaterhouseCoopers research finds that, despite the COVID-19 pandemic, spending for digital advertising grew 20% among US companies, showing that businesses are banking on digital ads in times when many places enforced social restrictions.
4. Improve discoverability with SEO
People are discovering things from the internet these days, and the gateway for them to find new information is from search engines. With a search engine optimization (SEO) strategy, you can make it easier for people to discover your business, especially for those who are already searching for things that are relevant to your business.
SEO strategy covers a lot of things, from regularly producing content that attracts potential customers to making sure that your business's website is optimized for search engine indexing. Performing SEO strategy well can help the website appear on top of search engine results when people search for terms that are relevant to your business.
By increasing your website traffic, you can ensure that more and more people could potentially become your new customers. This can ultimately support revenue growth, especially when your SEO strategy is sustained to attract more customers and prospects.
5. Provide more personal and human experience with conversational AI
One of the ways for businesses to increase revenue is to make sure they deliver the best customer experience for existing customers and prospects. And providing a personal and human digital experience is a sure way to retain customers and have them coming back for more.
Using conversational AI or chatbot solutions is a perfect way for your business to provide a more personal and human experience to your customer. From automating customer service and support to providing a more interactive and personal engagement, there are tons of benefits to using chatbots for your business.
Aside from the experience benefits that the customer will get, chatbots have been shown to positively impact the business bottom line as well. An article by Forbes showed that in 2019, business leaders said that chatbots boost sales by 67% and save businesses an average of US$300,000. Not only did chatbots increase business income, but they can also save their money.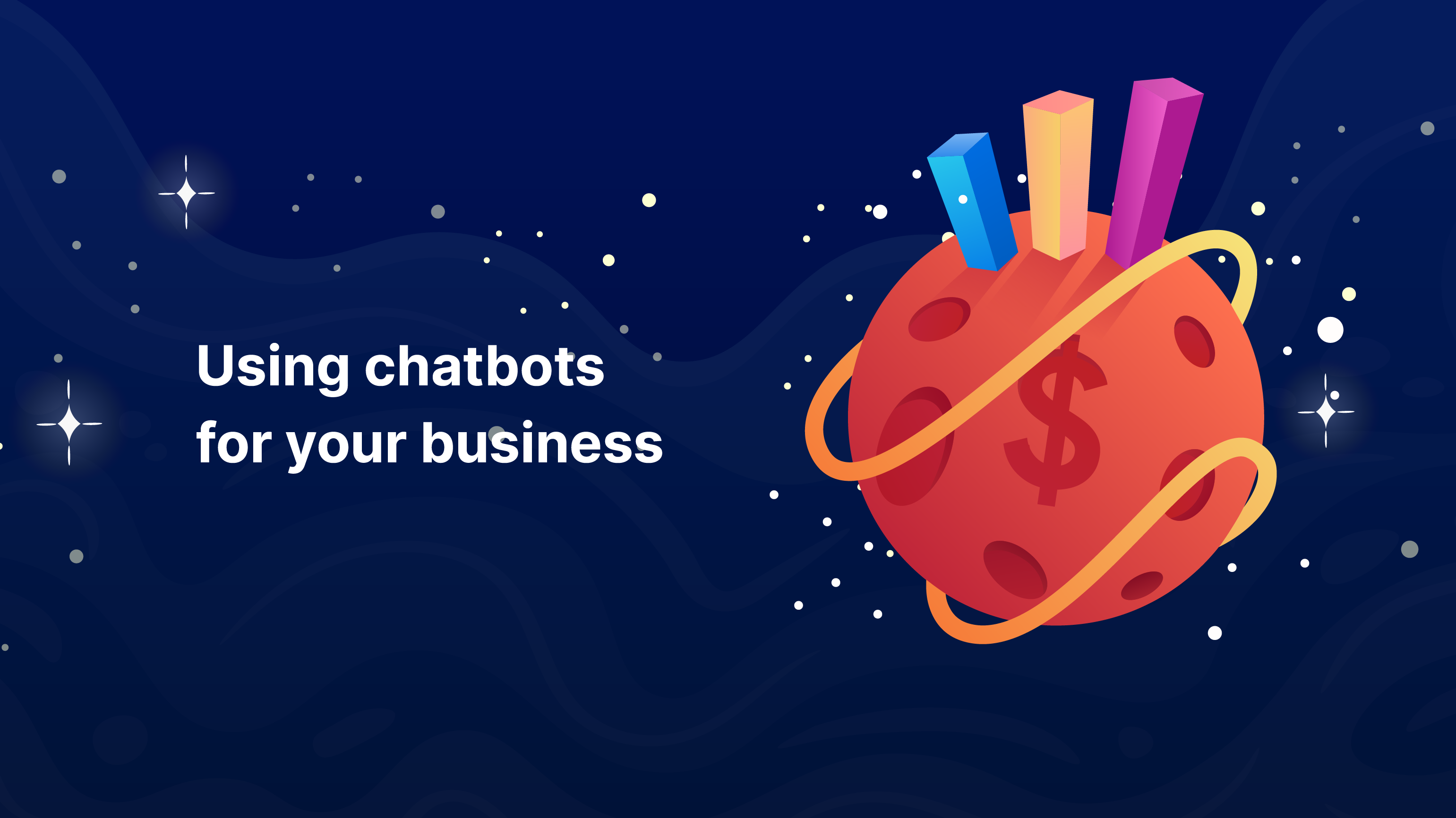 Using chatbots for your business
Out of all the abovementioned digital strategies that businesses can implement, adopting conversational AI or chatbots solutions as a part of customer support and productivity boost is probably the most interesting way businesses can give a better experience while boosting their revenue.
Chatbots have increased in popularity thanks to some of their key benefits, which includes:
Automating simple tasks with AI-powered automation.
Understanding customers better with Natural Language Processing (NLP).
Directly engaging with customers on popular channels, from chat apps. such as WhatsApp and Telegram, social media such as Facebook and Instagram, to your own customized websites.
Gathering actionable customer insights from conversations to provide better, more personalized services.
Read also: Is Chatbot The Future of Marketing?
You can learn more on all you need to know about using a chatbot for your business, as well as the benefits, in our previous article, which discussed the topic in-depth. But essentially, chatbots have been lauded as a digital solution that would revolutionize many business fields, including marketing and customer service.
Conclusions
In a digital era like today, businesses should be compelled to adopt digital strategies. Not only will digital strategies make workflow more seamless, but they can also help businesses reach more customers, boost sales, and ultimately increase revenue in several ways.
Among many digital strategies, implementing AI-powered technology such as chatbots can open up many opportunities to make customer support, service, and overall experience more polished. This will surely help them retain customers, gain new ones, and improve their bottom line.